The world is overwhelmed with negative information about the spread of the deadly virus. Media outlets are tracking negative effects very closely and carefully. To the average earthling, it seems that the world is coming to an end. I decided to find, curate and amplify the good news in this storm to reduce public anxiety. This post will be updated daily as new information becomes available.
March 25
Today is a day full of hope and expectation which we all need to stay motivated and sane.
Stock market surges on 2 trillion-dollar deal
In anticipation of the deal that the government passed just hours ago, stocks were up significantly. Individual tickers surged as high as 17%. Asa result of this deal, each American making under $75K based on the tax return filed in 2019 or 2018, will be getting $1200 in the mail.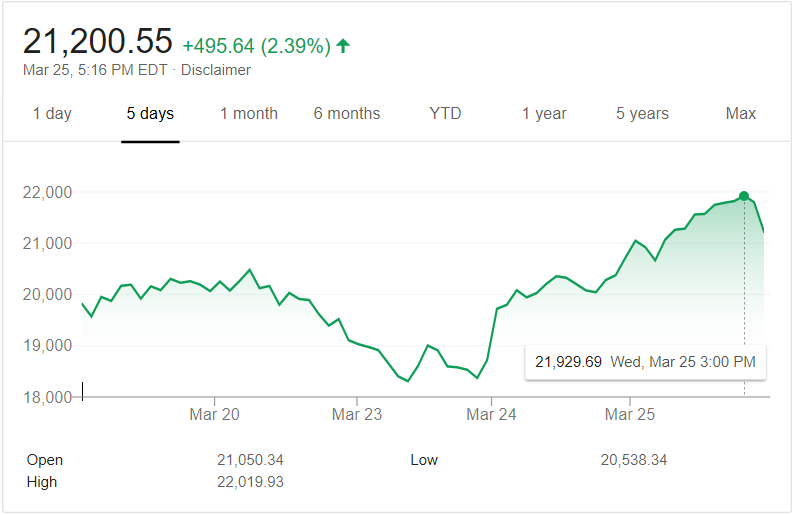 The coronavirus mortality rate is 2.2%
It is not an excuse to celebrate, but we should really internalize the magnitude of risk most of us face.
Contrast this number to the odds of dying from other causes we take for granted.
March 23
The US is entering the most difficult week of this pandemic as the testing accelerates and reveal a true picture of the virus spread. The economy is taking a serious beating. The good news today is as vital as ever.
Project Apollo
Seattle epidemiologist is suggesting to crowd-source this pandemic through massive at-home testing combined with cell phone location data to track spreading.
Bill and Melinda Gates pledges $105M to combat the pandemic
Bill's foundation has pledged to help millions of dollars to accelerate control of the spread of the virus, support vaccine development and assist other organizations in Africa. Recently they announced an additional $5M to help public agencies in Washington state with detection of COVID19.
Cisco is committing $225M to fight COVID19
Cisco CEO Chuck Robbins just announced that they are putting their money to help contain the spread of the virus locally in the US and globally.
Vaccine clinical trials count start in April in China
Director of the National Health Commission's Science and Technology Development Center said that some vaccines may enter clinical trials in April 2020.
March 21
Slowly but steadily medical professionals are getting ahead in the game. Virus transmission seems to be mostly happening human to human rather than over the air over long distances. Hong Kong health care workers were able to avoid infections despite constant contact with sick people.
Vaccine clinical trial is about to start
National Institute of Health is kicking off a trial that may prevent future infections in people that haven't gotten the virus yet. Of course, certification will likely take time, but it is great that there's a drug being considered adequate for humans.
Doctors in India were able to cure COVID 19 infection with existing drugs
Three patients from Italy recovered in India after treatment with two HIV drugs.
Ordeal could be over in 6-10 weeks
Bill Gates, the man who predicted pandemic and called our un-preparedness back in 2015 is claiming countries might start returning to normal life in about two and a half months.
Perspective
A few interesting resources to understand the numbers behind COVID 19 threat.
March 20
Another good day of progress on the fight against Coronavirus. While the US is ramping up measures, some of the Asian countries are seeing relief.
Wuhan closes the last makeshift hospital
There has been tremendous progress at containing the virus spread in China, including the epicenter of the outbreak – the city of Wuhan. Citizens are allowed outside, life is returning to normalcy and even president Xi Jinping has visited the city.
Apple reopened all 42 stores in China
A sign that life is about to return to normal, at least in China, is that Apple reopened all stores it has closed out of an abundance of caution.
South Korea has flattened the curve
The number of new cases in South Korea has dropped which means the country was able to contain the virus spread.
Find more statistics at
Statista
Cleveland clinic can test for Coronavirus in 2 hours
MetroHealth Medical Center offers a test that reduces results wait time from days to about 2 hours. This is huge because patients can now be diagnosed quicker and quarantined if need be.
Arcturus Therapeutics and Duke-NUS are working on a vaccine
This isn't exactly an accomplishment just yet, but these guys are working on a vaccine using their proprietary RNA-based technology, which alleges much quicker time-to-market.
March 19
This is the first day this post is published and we already have a few rays of good news.
Air pollution above China and Italy has dropped significantly
China and Italy have imposed harsh restrictions on citizens to curtail the spread of the virus. The economy ground to a standstill stopping production on air-polluting factories and removing cars from public roads. According to satellite imagery, there is a 20% to 30% reduction in final particle matter compared to previous years.
Venice canals have clear see-through water
Venice is a ghost town without tourists. Water traffic disappeared. Sand and mud settled revealing how clean the water can be when nature is left to its own devices.
When this is all over, we will breathe cleaner air and enjoy cleaner water.