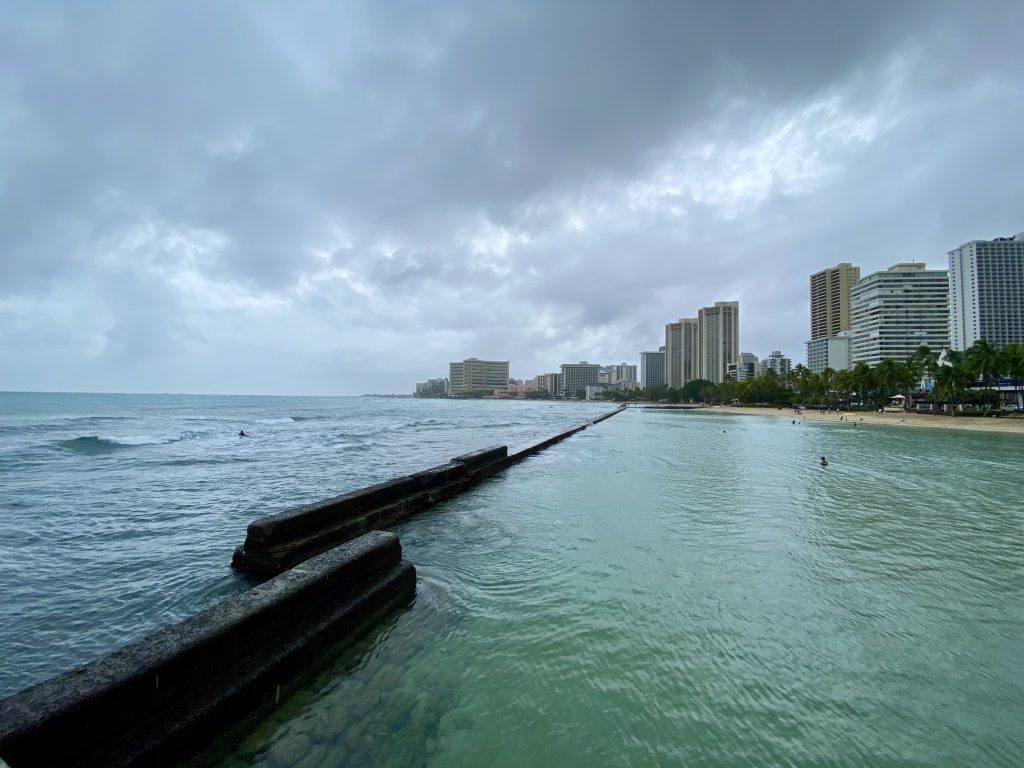 Hawai'i is a special place on Earth with pleasantly warm air in 75F – 85F range, gorgeous sunrises and sunsets, sandy beaches, turquoise ocean and a slew of activities all year round. Summers are warmer and drier than winters but a traveler from mainland US would struggle to tell the difference. If you'd like to get away from civilization in winter, when most of the country is pummeled with snow, then going to Hawai'i is a great choice. These islands offer lush green landscapes that would not be possible in harsh dry conditions. Islands are green, in part, thanks to the rainy season between January and April. In fact, ancient Hawaiians considered rain to be blessing from the ancestors. They paid close attention to the rain and coined over 100 words to describe it. If you are flying to Hawai'i in rainy season, be prepared to see occasional overcast and drizzle. If you get lucky, it can rain as often as every 30 minutes for up to 5 minutes each time followed by a break with sunshine. This kind of rain will not ruin your vacation.
Rarely, but it may happen, that the rain lasts a few days straight. Going to the beach to get gorgeously tan will not work, renting a car to drive around the island is no fun. What are your options, besides getting glued to a screen in a hotel room? Turns out there are a bunch of things you can do. This article covers activities in Honolulu on O'ahu island, on my own order of preference.
1. Surf the waves, snorkel or dive
When it rains above, you couldn't care less about it when you're in the ocean. Both ocean and rain water is warm so you wouldn't freeze. I had a great experience with Dive Oahu. If you're staying on Waikiki beach you can rent a surfboard from these guys right here for $20/hour.
An absolutely gorgeous place to snorkel is Hanauma Bay. Keep in mind that in winter this is a windward side of the island so the waves will be tangible. Also, every Tuesday, this park is closed, so plan your attendance accordingly. You can get here via Waikiki Trolley blue line – buy a pass for a day and use it to get to and from this location. It should set you back $25 for the day. Officially, they do not let anyone off the bus, but they do stop for 15 minutes for a bathroom break. Driver wouldn't mind you heading for the beach or picking you up as you join them back after you're done. Just ask nicely.
If you like the idea of diving or snorkeling but prefer to stay dry, there's a way – Atlantis Submarine. It is a great way to keep yourself busy exploring the island for 2 hours regardless of the weather above the ocean.
Another great way to enjoy rainy day is to hit Wet 'n' Wild Hawaii water park. This park is a bit of a drive from Waikiki area but it is worth it.
2. Restaurants and cafes
Every morning I'd wake up and head to Kai Coffee on Waikiki. They are a little pricey but the coffee is worth it. This is a great place in sunshine or rain. I would highly recommend skipping all Starbucks, McDonalds and other large chains for your coffee needs. Kai Coffee is the place to go.
When on Oahu I highly recommend going for fish for lunch or dinner. This island is chalk full of restaurants serving anything and everything, but local fish testes amazing. Every morning at 5 AM local fishermen return with fresh catch to pier 38 that will be served you for lunch at Nico's. You can get here on Waikiki Trolley purple line on the way back from Pearl Harbor. You can also catch Uber which should set you back around $25 from Waikiki. Speaking of Uber and Lyft, you can save over 30% if you just walk 1-2 blocks out of Waikiki in your direction of travel.
If you do not mind splurging over $100 for a dinner for two on sushi, then you will definitely enjoy Furusato Sushi and Yoshitsune. Both have fine quality fish and great service. Furusato is a typical sushi bar, where as Yoshitsune feels like a family business.
There are coffee shops and restaurants every 3 feet on Waikiki, but one that I particularly enjoyed on a rainy day was Cafe Glace. They serve a delicious Acai bowl that will boost your blood sugar and excitement.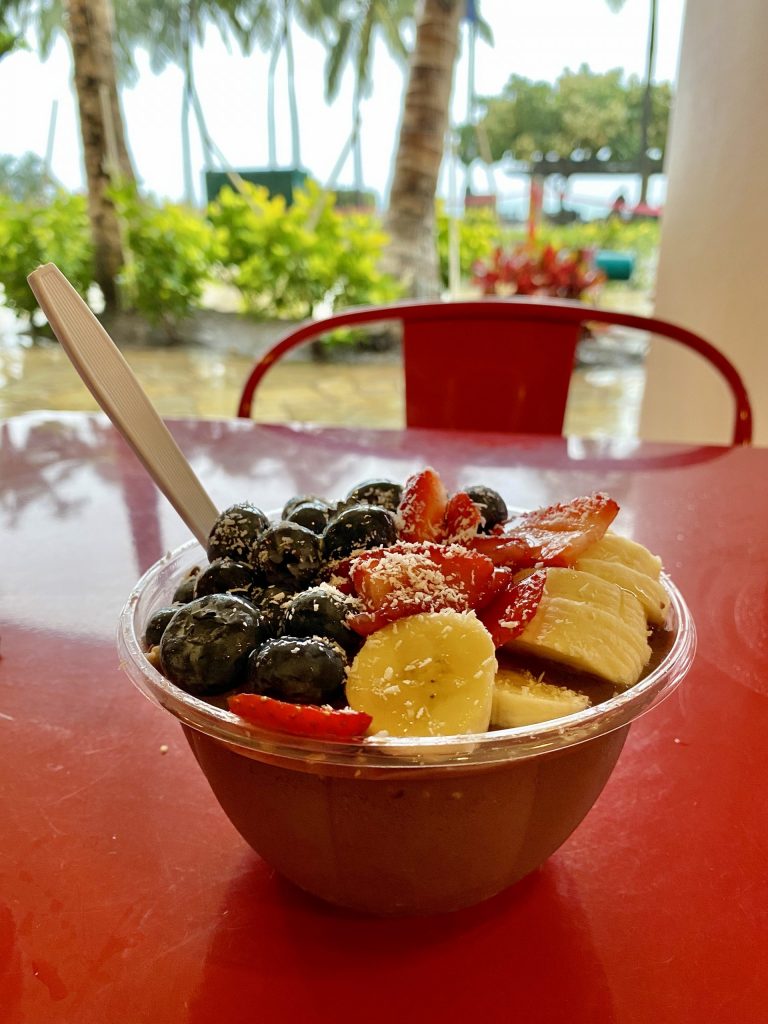 3. Museums and temples
Honolulu, being a cultural center for Hawaiian islands, has a few places to get immersed into Polynesian history. Bishop Museum easily makes the top of the list, even though it is not the closest location to Waikiki nor most obvious. If you are considering Iolani Palace or Honolulu Museum of Art, I would recommend skipping them and heading straight to Bishop Museum. Not only it is a larger facility with more attractions, it is also much more authentic to Polynesia. I particularly enjoyed Planetarium with a night sky demonstration and terrain mapping device.
Another great place to visit is Byodo-In Temple on the north side of the island. It is amazing in either sunny or rainy day. Entrance fee is $5 for adults. This place radiates calm, mindfulness, peace and serenity. If it rains, you will see fewer tourists so you'll get to appreciate this place more.
This place is a replica of Japanese Byodoin temple, but it is a real deal. There are monks and they do their ceremonies. This is more than just a tourist attraction.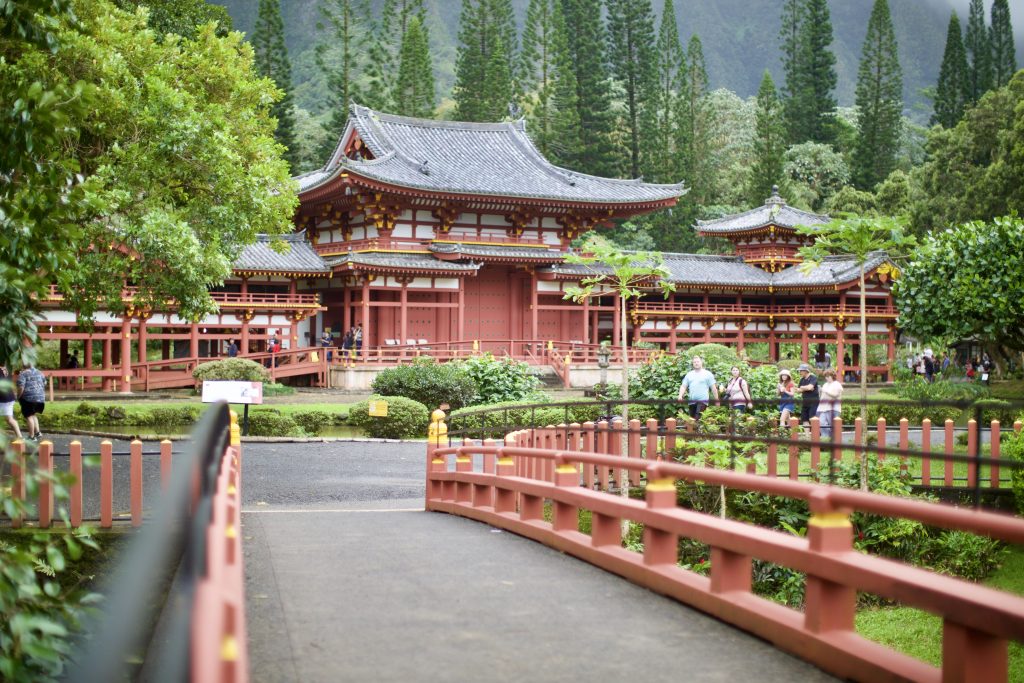 One inconvenience about this place is parking. There are very few stalls and parking attendants aren't the most polite you can find. If possible, try carpooling with friends or splitting an Uber or Lyft ride to the temple. One way trip can cost about $50 on Uber, Lyft or regular cab from Waikiki and will take about 40 minutes. A significantly cheaper options, but much more exhausting is to take public transportation. It will cost about $5 but will take 2.5 hours one way.
4. Indoor activities for families with kids
If you arrived with little ones on the island but weather is not cooperating there are at least two ways to keep them busy and have fun.
iTrampoline Hawaii is a spacious facility that will burn both young and grown up calories. You can spend two hours there and not even notice.
Another good place to visit is Children's Discovery Center. It is a two story children's museum covering topics of water circulation in a rain forest, human body, crafts, space exploration, technology, transportation and different cultures in the pacific ocean. Staff is friendly and helpful. There is a cafeteria to grab a snack on premises, but it may be a better option to head to Ala Moana shopping center for a broader set of food choices and maybe, even, occasional shopping.
5. Shopping
ABC stores are conveniently sprinkled all over Waikiki and it is tempting to pop-in and grab something. Locals, jokingly elaborate that "ABC" stands for "All Blocks Covered". However convenient, may not be the cheapest or the best option for shopping.
To stock up on general groceries it is best to head to Foodland Farms at Ala Moana. They are just like Safeway – they've got you covered for all your needs. Prices are comparable to regular grocery stores (with Hawaiian mark-up), but you do get a discount if you are willing to share your phone number with them. If you are staying for a week or more in Oahu, head over to Foodland Farms, stock up on provision and save money.
If you are looking for gifts or souvenirs to bring back, again ABC is not your best friend. Head over to Makai Gift Shop – they have more options to choose from.
Another place to grab a quick souvenir is Hawaiian Casuals. They are a brick and mortar store so they'll be there in any weather.
You may be lucky to be on the island during Farmer's market. This is by far, the best place to grab something local to bring home. It usually takes place around First Hawaiian Bank branch on Tuesday and Thursday at 4 PM.
If local Hawaiian artifacts are not your cup of tea and you'd rather shop in upscale boutiques, then entire Kalakaua Ave is your playground. You should also head back to Ala Moana shopping center which has about 350 different shops to explore.