This post has been a long time coming. After more than a decade of living in the Pacific Northwest, I have seen, felt, smelled, and tasted a variety of experiences the region has to offer. This post is a distilled compilation of the most important aspects of local life. Someone considering relocation to this area will find this post helpful to make a call. I will cover not only Seattle itself, but also anything else relevant within a 3-hour driving distance from Seattle.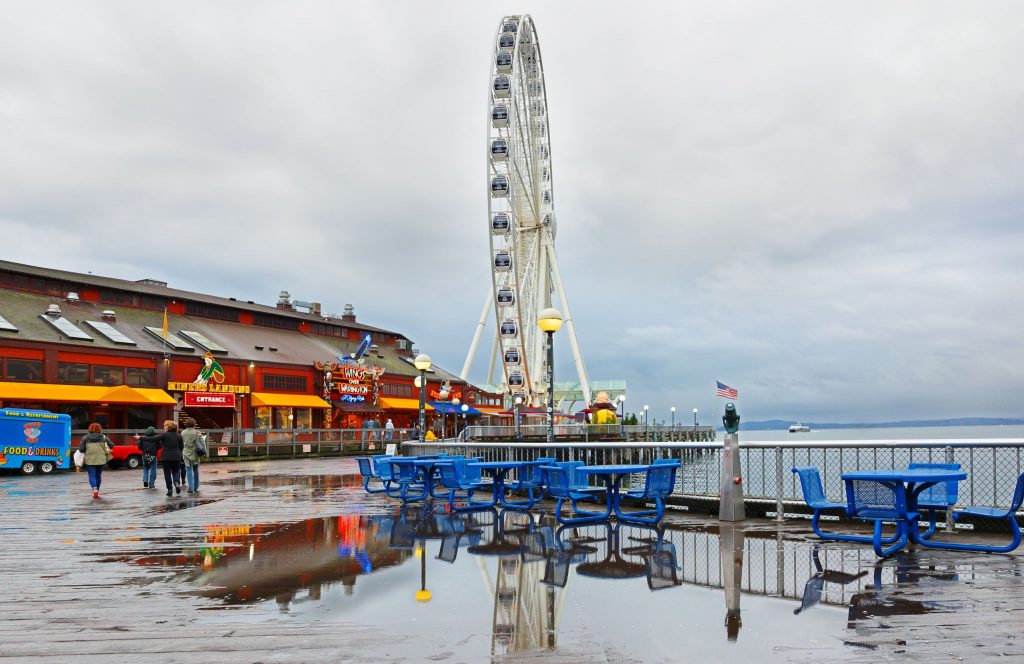 The eternal rain
The rain is real in Seattle. This entire region is a lush rainforest that stays green all year round. The price for it is a gray sky and many, many, many days of rain. People don't necessarily need flood insurance because of Seattle rain. The rain is usually light and soil can absorb it. What gets people is the psychological aspect of seemingly never-ending gloomy weather. Options for the weekend or a time off are limited when it rains. Hiking, camping, or riding a motorcycle in the rain is not everyone's cup of tea. The seasonal affective disorder is a real thing in Seattle. I pulled some data from weather.gov to make a point.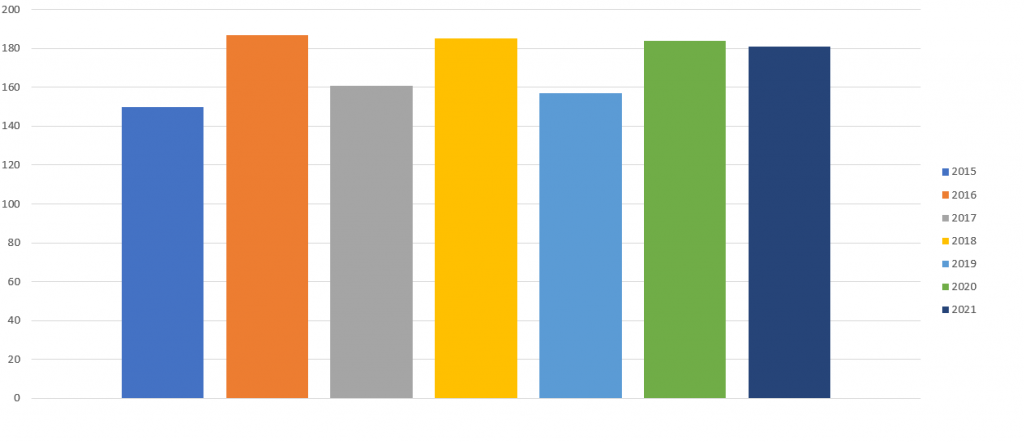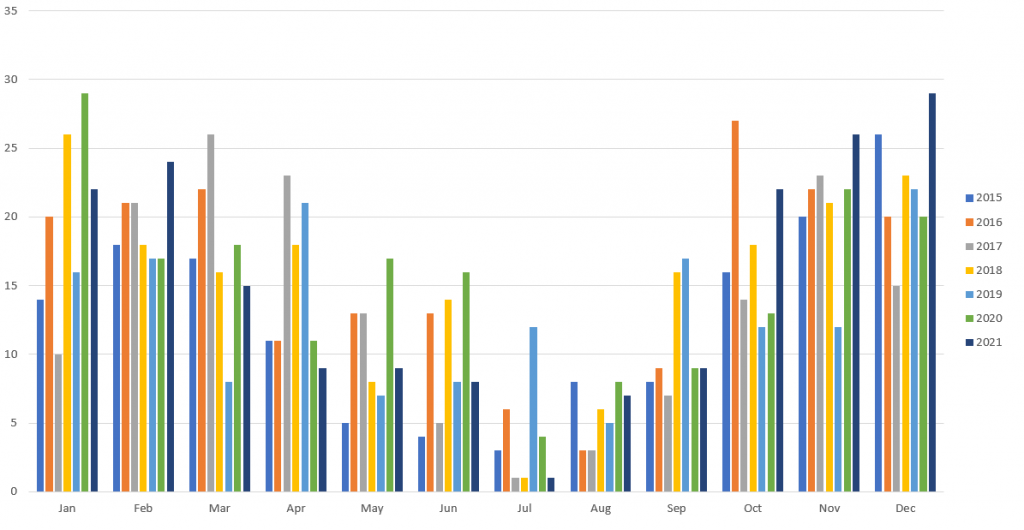 Looking back at the past 7 years, there hasn't been a year with less than 150 days of rain. In 2016 it rained for 6 months in total time, not necessarily contiguously. There are plenty of overcast days without precipitation, which I would anecdotally estimate to be 30-60 per year. The key point to take away – you will not see the sun for 8 months every year.
Let me repeat it again. There will be no sun in the sky for 8 months every year. Whatever your reasons are for relocation, they better be worth this sacrifice.
Seattle is particularly affected by the La Nina/El Nino cycle. Take a look at the September through December period of 2020 and 2021 on the right chart above. You will notice that 2021 has seen a lot more precipitation than 2020. That happening because 2021 is the year of La Nina, while 2020 was El Nino.
Temperatures stay above freezing even in winter. It is rare to have freezing temperatures in the Seattle area, but there is a ton of snow in the mountains at a higher elevation. As it precipitates a lot in winter, and temperatures are usually around the 35F – 45F range, residents of the area enjoy the most miserable type of winter – cold and wet, without sun or snow.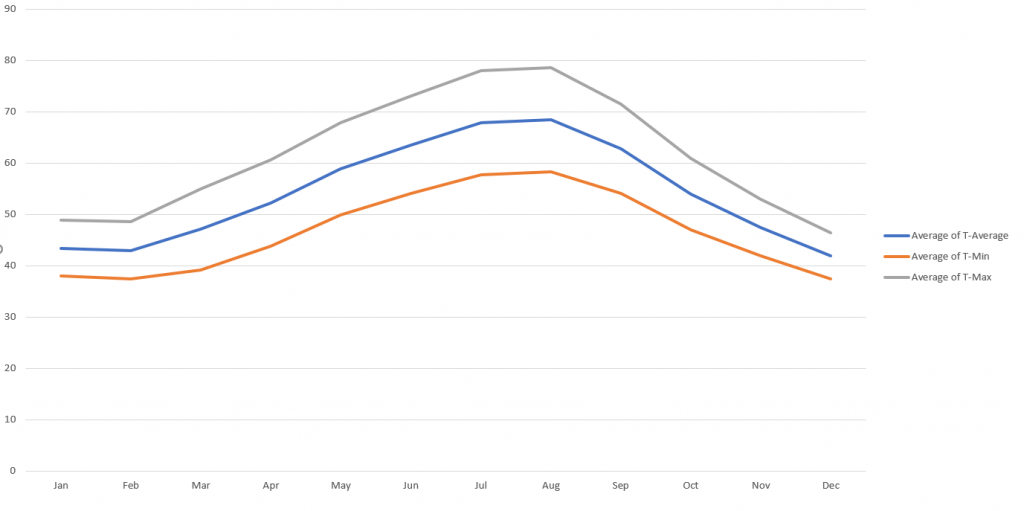 Wildfires
Seattle is surrounded by lush green forest for miles and miles in any direction. This forest requires a lot of rain and in summer it doesn't rain as much as the forest needs. Summer temperatures can soar above 80F and it has even been over 100F in 2021 for a few days. Every year, this inevitably leads to dry conditions which lead to massive wildfires, human-caused or otherwise (see Columbia gorge wildfire). Fire season starts in August and lasts until October when rain returns in full glory and puts it out for good.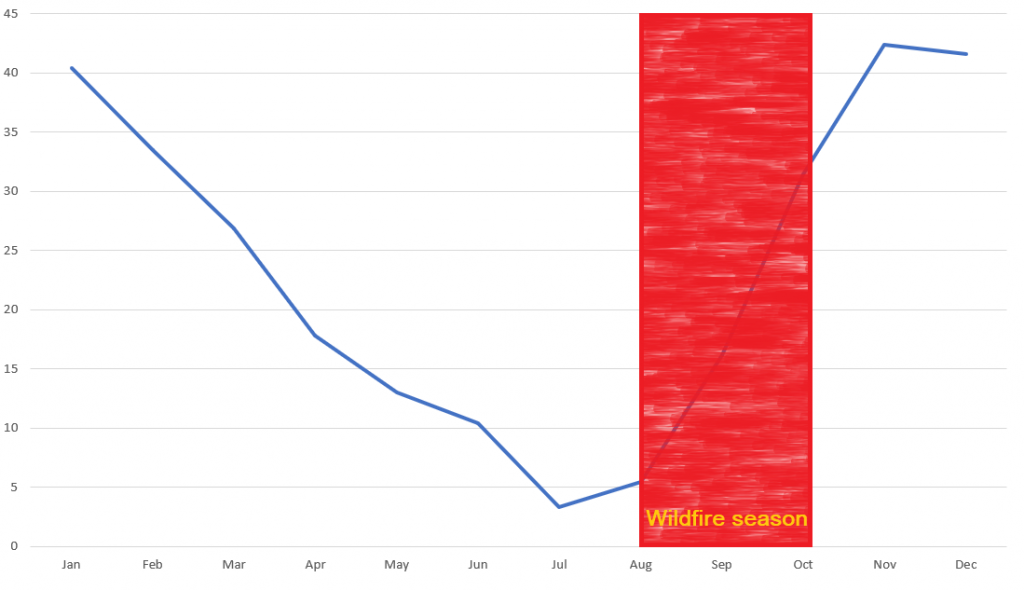 The past few years have been pretty bad. It has been not recommended for sensitive groups of people to be outside between August and October due to the risk of smoke inhalation. That's approximately 2 months when it doesn't rain people are limited in their outside activities.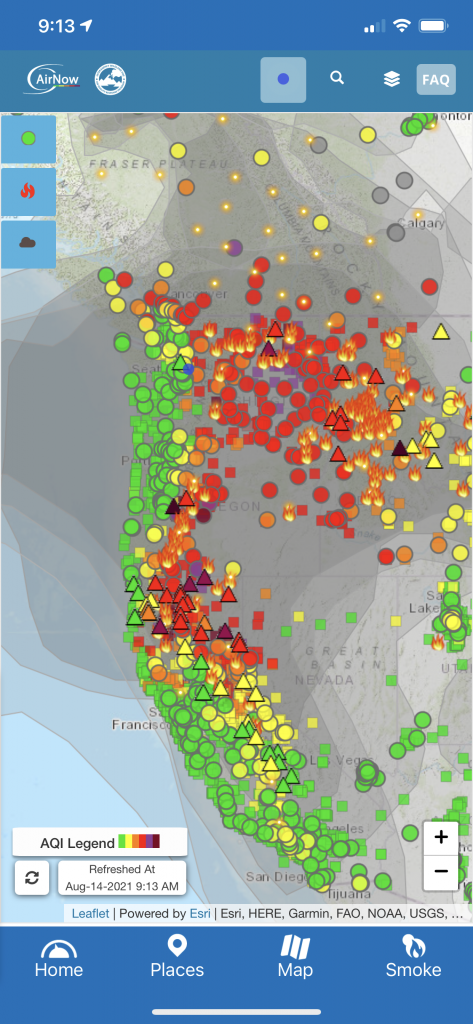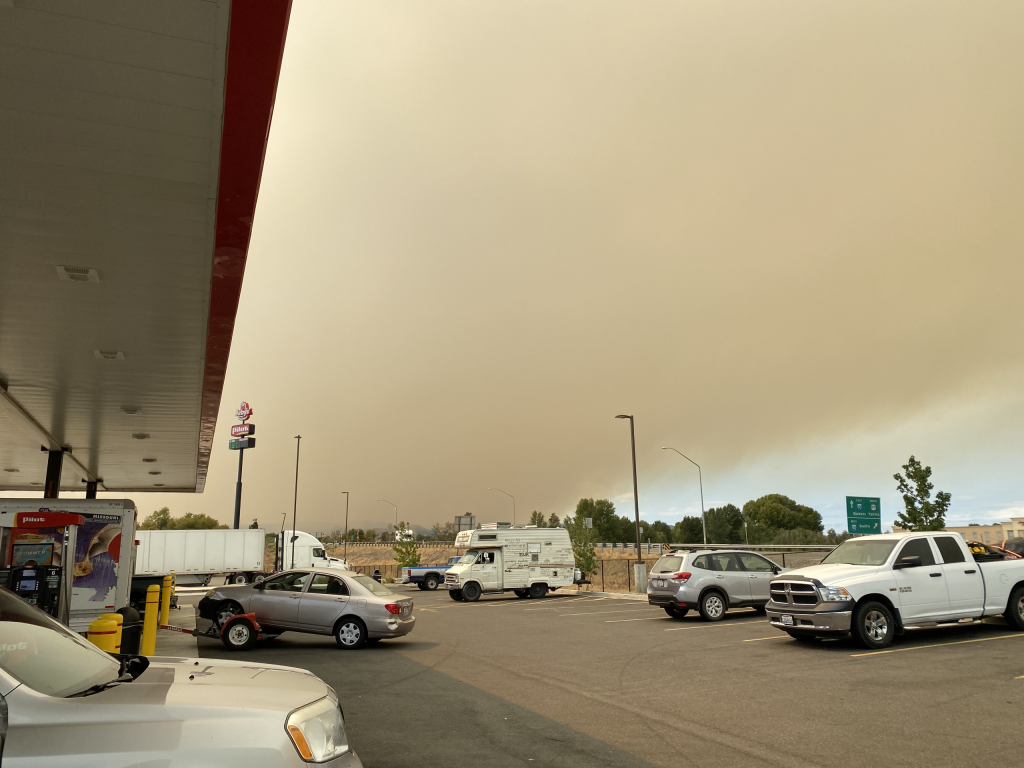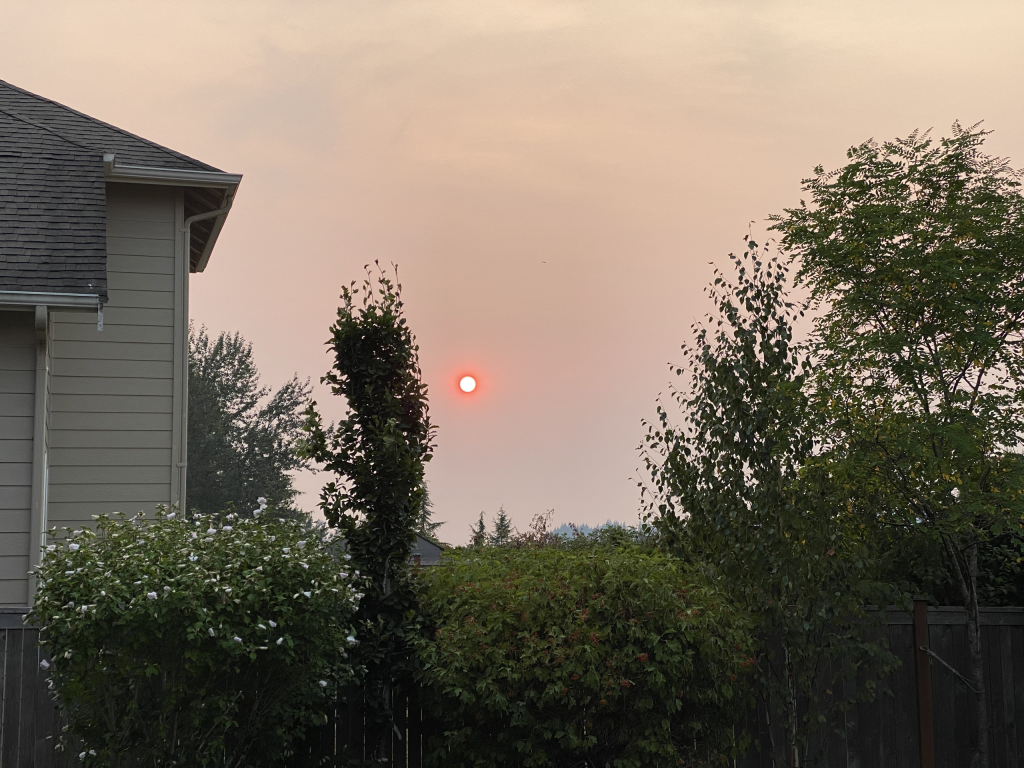 So if you can't be outside when it doesn't rain, and you don't want to be outside when it does – what remains? Exactly! You have 2 months of glorious summer.
Glorious summer
In my personal view, it is practically impossible to beat Washington in terms of attractiveness for outdoorsy people in summer among all other states, including Alaska and Hawaii. It is the ultimate place to be when nature is calling. This post is not meant to provide an exhaustive enumeration of Washington's natural beauty elements, but I do want to highlight a few personal favorites for new residents to explore.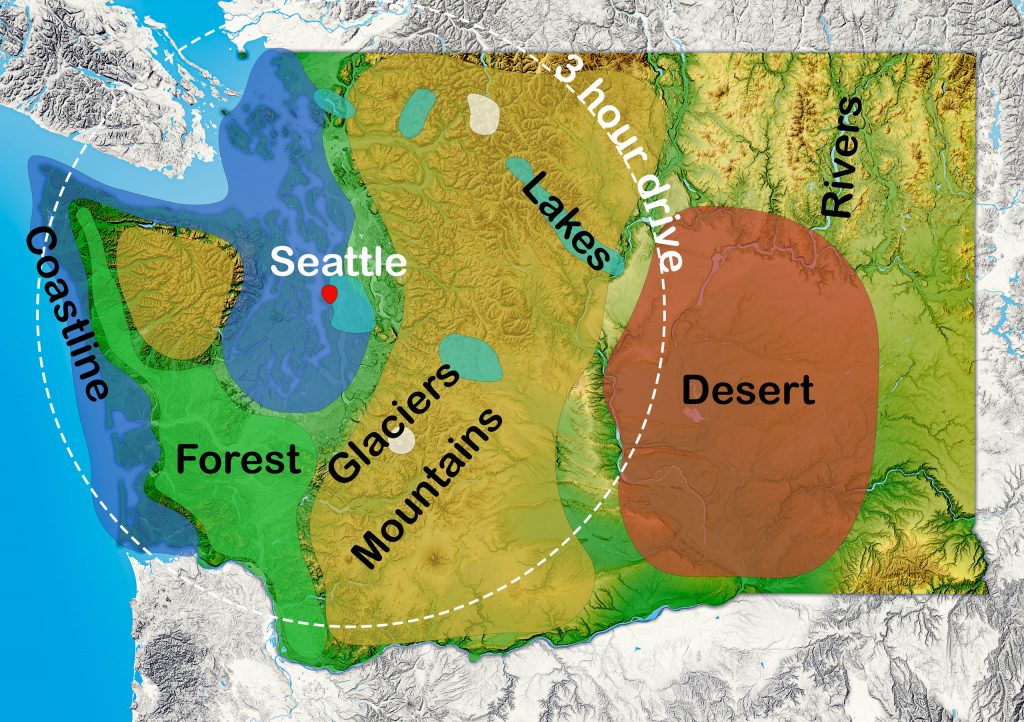 Looking for a hike? Head over to WTA.org to meet the hiking community and learn about the current state of various trails. This is a great resource that I personally start checking out around April every year when temperatures rise enough to hike.
From left to right – the state offers a rugged Pacific Ocean coastline that transitions into the forest, which eventually meets the Cascade mountain range that turns into a dry desert-like area stretching to Idaho. The state has plenty of lakes, rivers, and waterfalls. It even includes two glaciers – Mt. Rainer and Mt. Shuksan.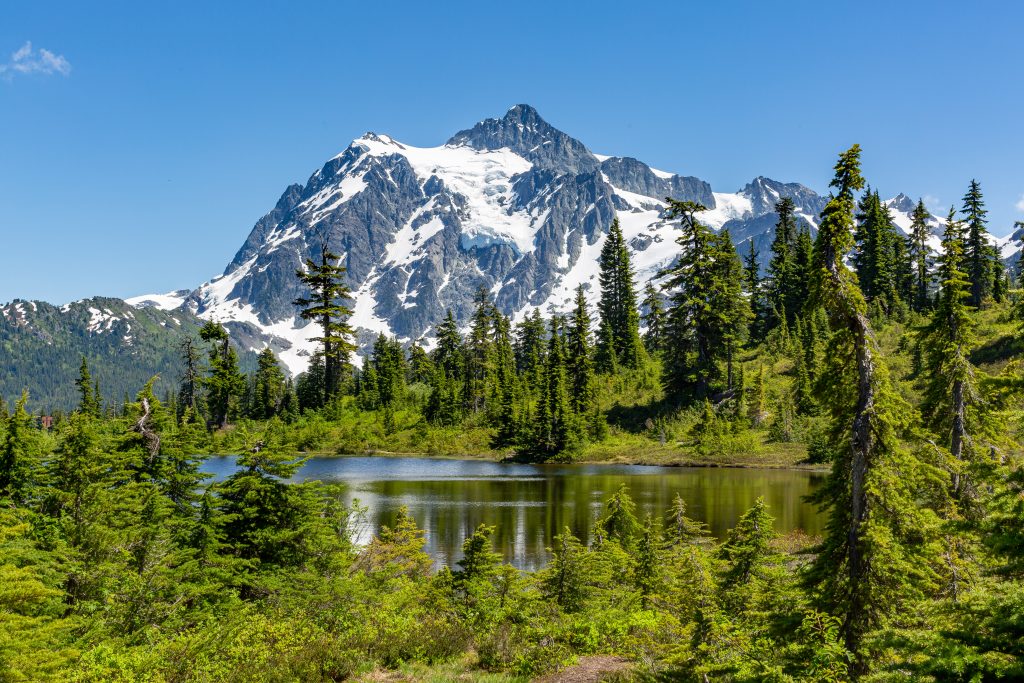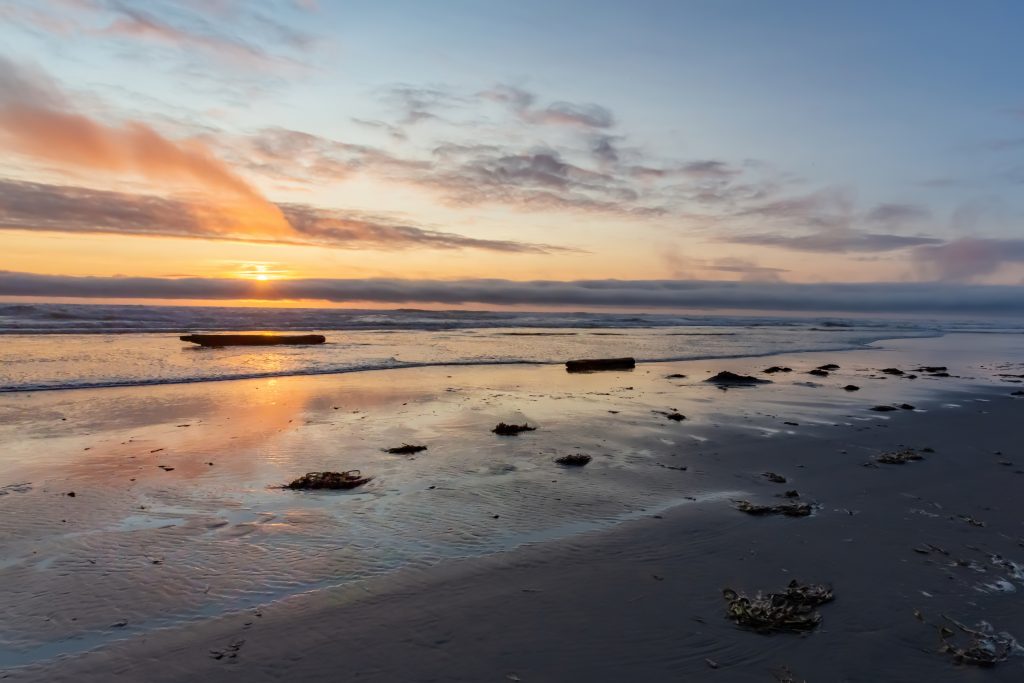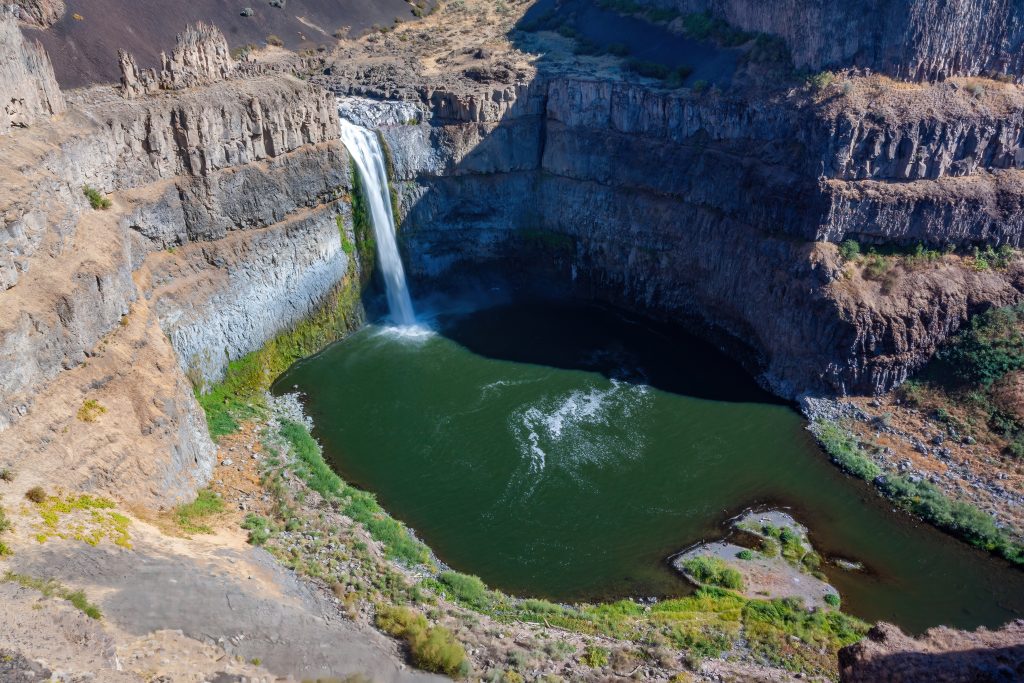 Here's the handful of my favorite weekend trip destinations, on top of the links provided above (not in any particular order):
Finally, let's not forget that only 3 hours north of Seattle we have a gorgeous Vancouver BC, Canada. Weekend trips to Vancouver for quality sushi and a bicycle ride around Stanley Park in summer is popular way to get together for families.
Best places to live
Everyone prefers living in places with high taxes and low economic opportunities. Is that right or is that the other way around? In this paragraph, we will intersect various dimensions of qualify of life and arrive at the following two buckets.
| Recommended cities and towns | Not the best places to live* |
| --- | --- |
| Seattle (Capitol Hill, Ballard, Green Lake, Queen Anne) | Seattle (South, West Seattle, Rainier Valley, Beacon Hill) |
| Bellevue | Monroe |
| Kirkland | Marysville |
| Redmond | Renton |
| Bothel | Kent |
| Sammamish | Federal Way |
| Issaquah | Tacoma |
| Snoqualmie | SeaTac |
| Carnation | Tukwila |
| Everett | Newcastle |
| Mercer Island | |
* places are not the best for various reasons – commute, crime, school district, etc.
This is not an exhaustive list of cities to live in, but it gives a general area to consider. People working for Amazon HQ generally live in Seattle to avoid commutes. Microsoft, Google, and other tech companies have offices on the east side of Lake Washington so employees tend to live in those areas. People care about their commute so much that Amazon is moving to Bellevue to attract talent that just wouldn't commute to Seattle even for a 6-figure salary.
The highest-income individuals (including Bill Gates and Jeff Bezos) live around the eastern Lake Washington or Lake Sammamish. Folks with above-average wealth who can't afford (or choose not to buy) a waterfront property move further east and live in the area between Bellevue (on the left), Carnation (on the right), Duval (on the top), and Issaquah (on the bottom).
Crime
Crime tends to follow the population – the more people in the area, the higher the crime rate. The entire Seattle metro area is generally a safe space – you are unlikely to get into trouble by walking in the wrong neighborhood. However, some areas are safer than others. Statistical data from city-data.com and crimegrade.org matches my experience living in the area for a long time:
Seattle tends to have higher crime rate, especially in the south, relative to cities north and east of Seattle.
Bellevue is much safer than Seattle and you can walk anywhere without fear of being robbed or have your car broken into.
Sammamish, Issaquah, Redmond Ridge are even safer than Bellevue. Those places are far enough from "civilization" to not be attractive areas for criminal activity. Only locals bother driving there.
School districts
In Washington, each school district is funded from two sources – state and local levies. Local levies vary drastically by each district. Some school districts vote to have low property taxes hence schools are funded poorly. Some vote for higher taxes, combined with generally higher property values result in much higher funding for public education. Districts with better funding can afford higher-quality teachers and better programs.
If we look at a few sources, like schooldigger.com and niche.com we arrive at the list of best school districts in the state:
Mercer Island shool district
Bellevue school district
Lake Washington school district (that's Redmond and Sammamish)
Issaquah school district
Northshore schoold district (Bothel)
Public transit
The best way to describe Seattle public transit is non-existent. Don't get me wrong – there are plenty of buses, pool vans, trains, and even light link rail. They have two problems:
Service is limited to the most popular routes. If you need to be somewhere outside of those rotes – you are into some serious walking.
Service schedule is not practical. A bus from Kirkland to Redmond leaves every 30 minutes during business day and every hour on the weekend. We are talking transit center to transit center.
In recent years some routes have gotten better thanks to taxpayers who like inflicting pain on themselves. For example, RapidRide has gotten a very attractive schedule – leaves every 5 minutes during rush hour. It still suffers the first problem of being limited to the most popular destinations.
East Link Rail is a massive infrastructure investment that makes car tabs almost unaffordable but promises a convenient connection between Bellevue, Redmond, and Seattle, which eventually leads to the airport. Construction is well underway and should enter service in 2023.
Oh and have I mentioned it rains in Seattle for 6-8 months every year? I have – great.
Taxes
Everyone loves paying taxes, especially residents of Washington state. Look at your spending for the last year, subtract groceries, and calculate 10% of the remaining value. That's the average tax rate across various municipalities in the state.
We do not have an income tax in the state, officially. However, legislators found a way to impose two taxes in 2020 and 2021 years:
WA Cares fund is a 0.58% income tax that will provide Long Term Care benefits to retirees in Washington state. This benefit is not portable to other states if you earn income in Washingtonm but retire in Florida.
Paid Family Leave is a 63.33% of 0.4% tax paid by employees on their income in Washington state.
Slowly but steadily, Washington is enacting income taxes without calling them by the name. I would not be surprised if in near future there would be an amendment to the Washington state constitution to allow income tax collection.
Residents of 3 lucky counties (King, Pierce, and Snohomish) are paying RTA tax when they buy a car or renew license tabs. This tax funds regional public transit expansion, like East Link Rail. A brand new car worth $24,000 would require $264 RTA tax to register. Most of the best places to live are located in these counties.
Washington enjoys some of the highest gas taxes in the country – $0.5221 per gallon of gas.
Lastly, property taxes in King County (which has Seattle, Bellevue, Sammamish, and more desirable locations) are fairly high in absolute terms. You would be hard-pressed to buy any property that costs less than $600,000 in King County. Property tax of 1% nets the state a juicy $6,000 a year.
Just before I forget I should mention that the sky is gray and it rains more than 6 months every year in Seattle.
People
I would describe people in this area as generally nice, open, polite, and predominantly good drivers. If you speak to a stranger they will smile and respond back. When you have your blinker on people will most likely let you merge.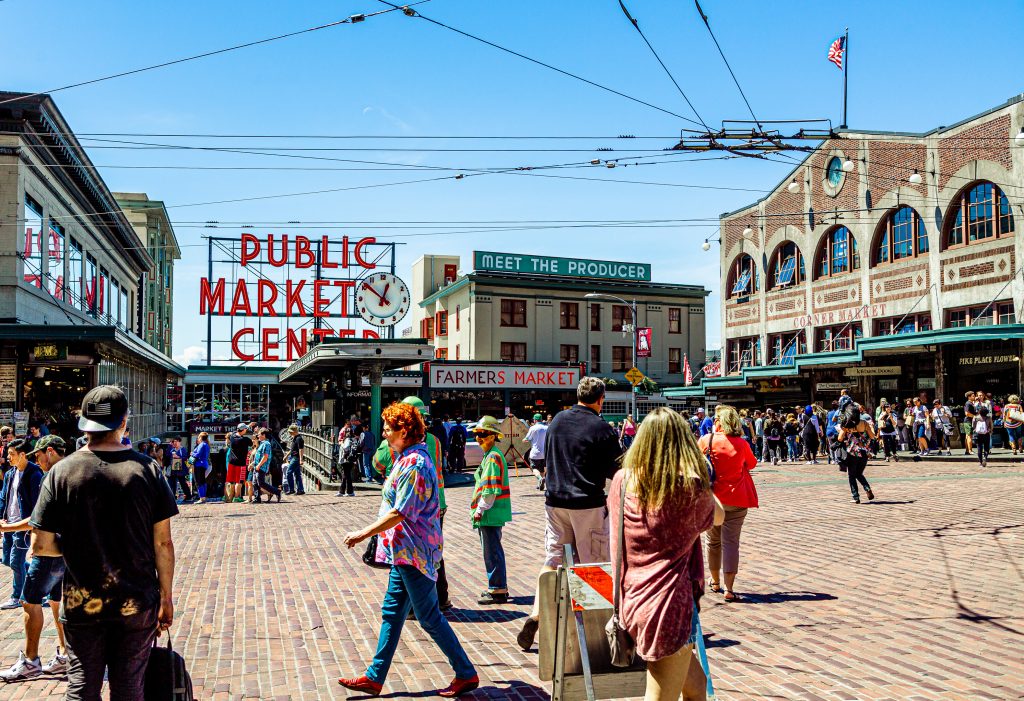 The immigrant community is strong in King county and people come really from all over the world. According to census data for 2020, there are over 557,000 people in King County who were born overseas. Out of 2.23 million residents in the county – 24% are immigrants.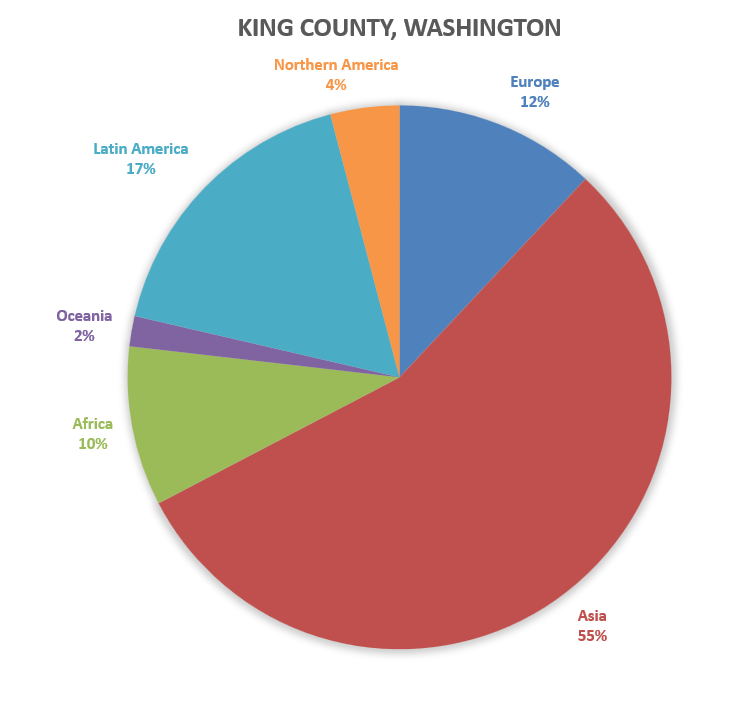 In Bellevue and Redmond, the percent of the immigrant population is even higher – upwards of 40%. At the same time, about 20% of residents of Seattle were born overseas.
This statistic is understandable – there is a large influx of immigrants who settle on the east side of Lake Washington, who work for Microsoft, Google, Amazon, Salesforce, and a few more tech companies. If you look at the top H1-B visa sponsors for 2021 you will see a strong correlation, which explains population distribution.
What does this mean for you? No one cares about your accent. If you speak differently, dress differently, or subscribe to non-Christian religion, not only you will not be judged, but very likely you will find kindred spirits in this area. Racism is pretty much non-existent here.
Jobs
Before moving to an area it helps to know if you could put the food on the table, doesn't it? King County has prospered and grown in the last decade mostly due to the technology and the health care sectors. Companies like Microsoft, Amazon, and Boeing have become magnets for talent across the country and even the world. The population grew and needs for various services increased as well – more people needed food, the roof over their heads, doctors, daycare for their kids, and so on. Satellite businesses sprung around the east side of the Lake Washington serving a rapidly growing population. Developers rolled in and erected a metric ton of rental properties. Since people were moving for good-paying jobs, they attracted banks, investment firms, financial advisors, and other businesses in this sector. As traffic increased, so did the accidents. People needed lawyers to go fight their tickets in courts.
These days economy of the King County is booming. Keep this history in mind as you are reading this paragraph.
Top 10 employers as of December 2021:
Amazon
Microsoft
University of Washington
Allied Universal
Aya Healthcare
The Boeing Company
Blue Origin
Nordstrom
Swedish Health Services
Seattle Children's
Other employees are Facebook, Starbucks, Salesforce, Accenture, etc.
Top 10 occupations as of August 2021:
Software Developer
Manager
Computer occupation
Laborer and Freight
Registered Nurse
Sales Representative
Marketing Manager
Retail Salesperson
Customer Service Representative
Stock Clerk
Other needed occupations are HR, Security Guards, Repair Workers, Janitors, Waiters, etc.
Coronavirus Pandemic did impact King County jobs but it wasn't devastating. A good number of jobs in the area are office-based and they seamlessly transitioned to working from home. As the country reopened a lot of jobs returned to the area and we are close to pre-pandemic levels of unemployment.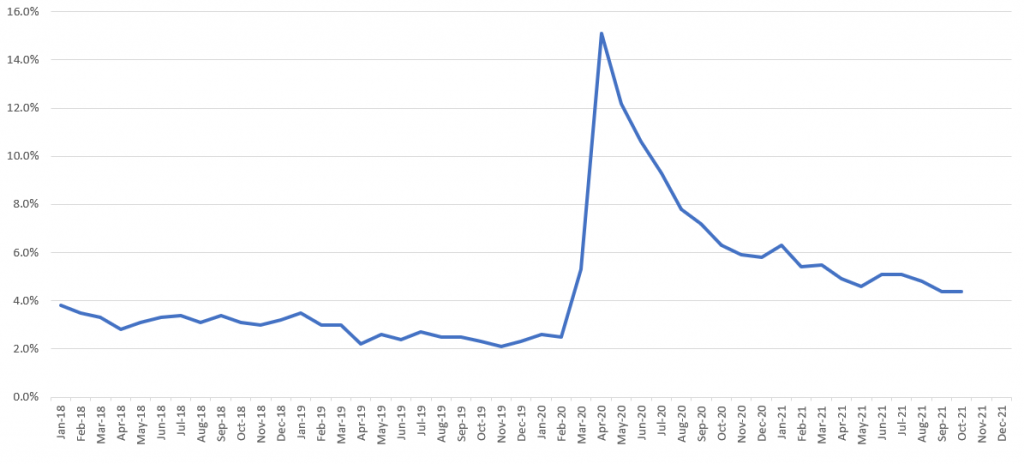 Conclusion
Let put everything together in a concise and easy to understand choice:
If you are moving here for economic reasons, to start a family or a business, to study, work for an employer that has office only in this area or to invest in real estate – you are on the right track. Seattle is absolutely the right place for young individuals motivated by careers and want to contribute to technological progress.
If you are looking to retire in Seattle or hope to be hiking the wilderness, drinking wine, kayaking or riding a bicicle on a myriad of trails – you are making a mistake. You will be putting your life on hold for 8 months every year, waiting for rain, fog or cold to pass. Seattle is the wrong place for people motivated by adventure.
Ask yourself – can you do, whatever you plan to do in Seattle, do it in the basement without windows for 8 months every year? The answer to this question is the answer to whether you should be seriously considering moving to the Seattle area.