I am an avid astrophotographer who doesn't mind frequent and long trips to Bortle 2 or even 1 sky just to get that extra detail on nebulae and galaxies. One of the ingredients for success for such trips is reliable, portable, and performant equipment. A central brain that orchestrates camera, focuser, auto-guider, tracking, meridian flip, and dew heaters must be small, not too energy-hungry, and be able to take a temperature punch. Almost everyone, and their grandmother, uses ASIAir Pro, which is great overall but is constantly lagging behind the open-source community (Canon Ra support, multi-star guidance, etc.). The traditional laptop needs too much power and can barely take the freezing temperature. I came across a mini PC that doesn't break the bank, is small like ASIAir Pro, and has enough juice to run all equipment. In this post, we will look at GMK NucBox in-depth and compare it to ASIAir Pro.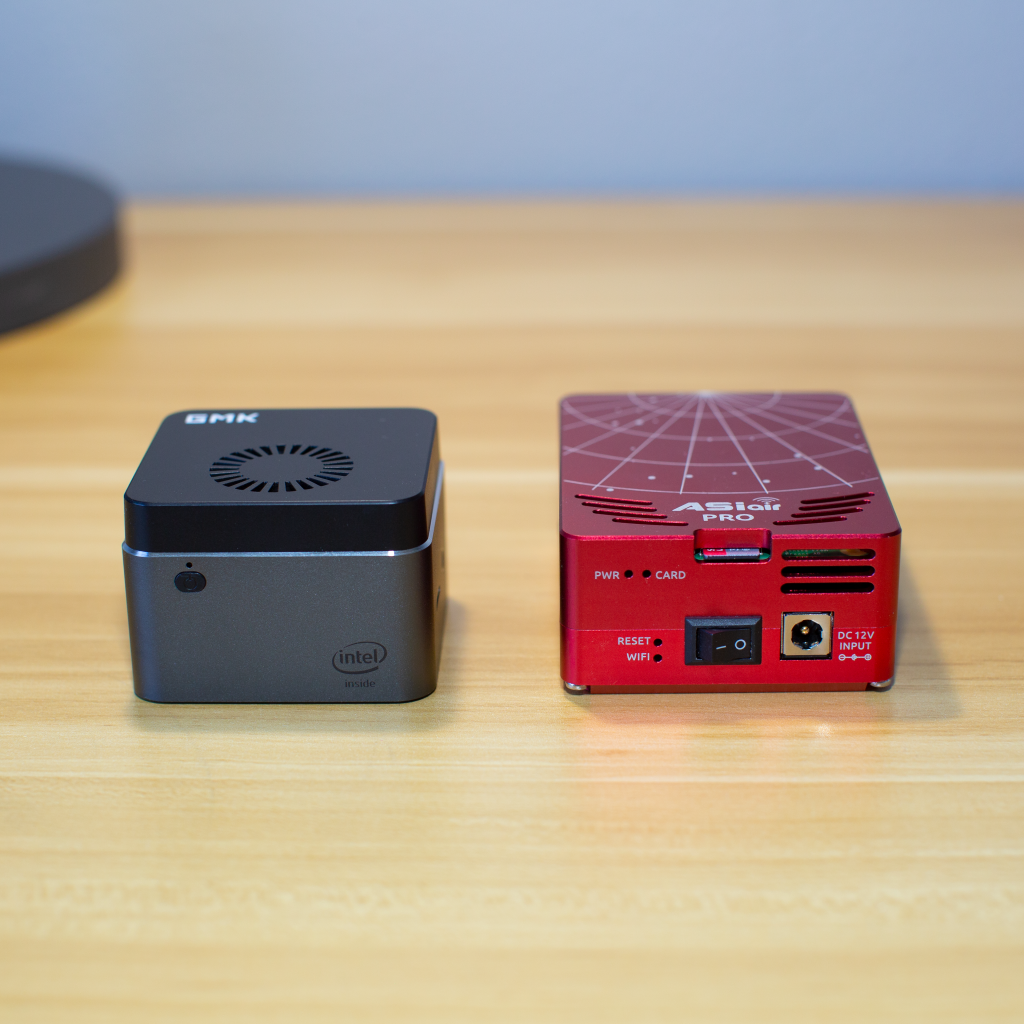 Physical characteristics
The ideal astrophotography companion is small and lightweight. It should be possible to mount this device even on Sky-Watcher Adventurer without a need for an additional counter-weight. Let's see how these two contenders compare.
GMK NucBox
ZWO ASIAir Pro
Width x Depth x Height, inches
2.4 x 2.4 x 1.6
2.6 x 3.6 x 1.3
Weight, lb
0.27
0.54
Material
Aluminium body and plastic top
Aluminum
Moving parts
CPU Cooler
N/A
Light sources
1 Blue, power indicator
1 Red, power indicator
1 Red, SD card indicator
Cooling
Active, vents on the top and back
Passive, vents on the top and sides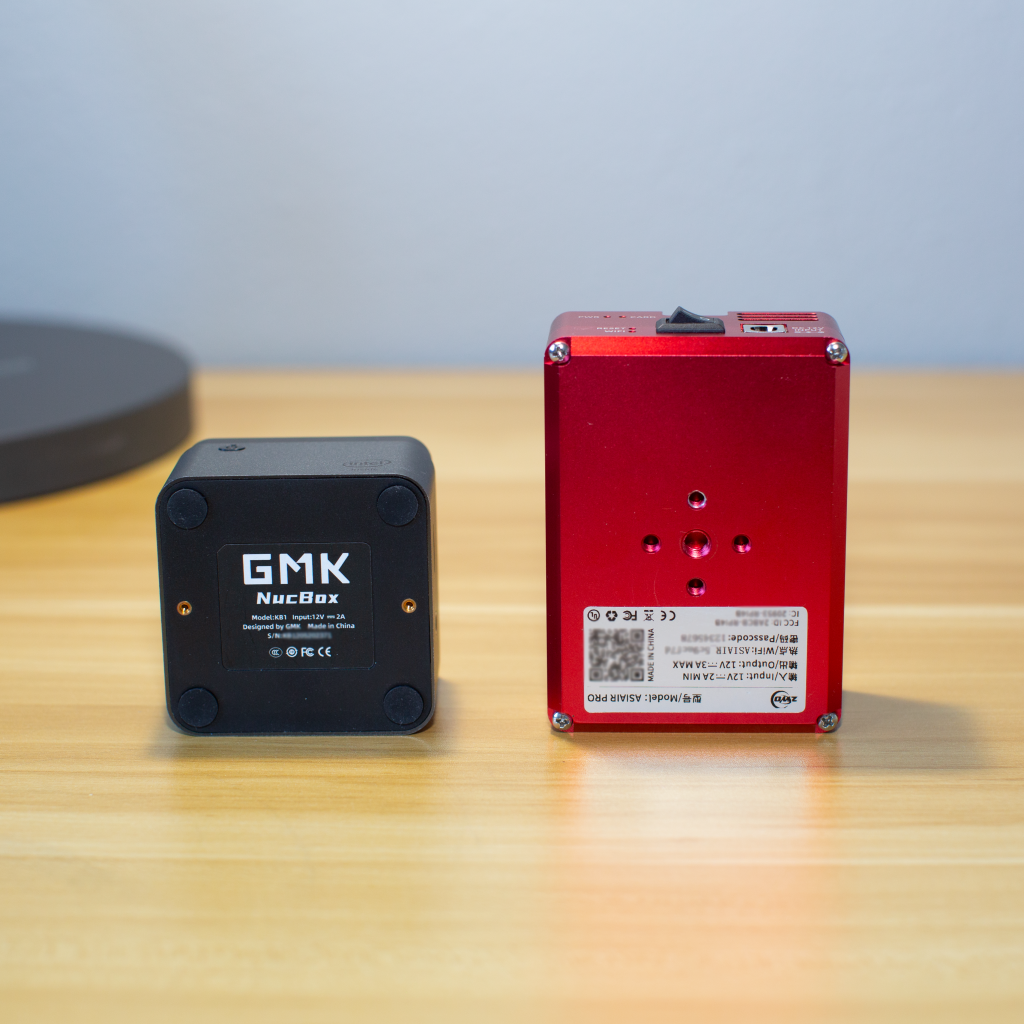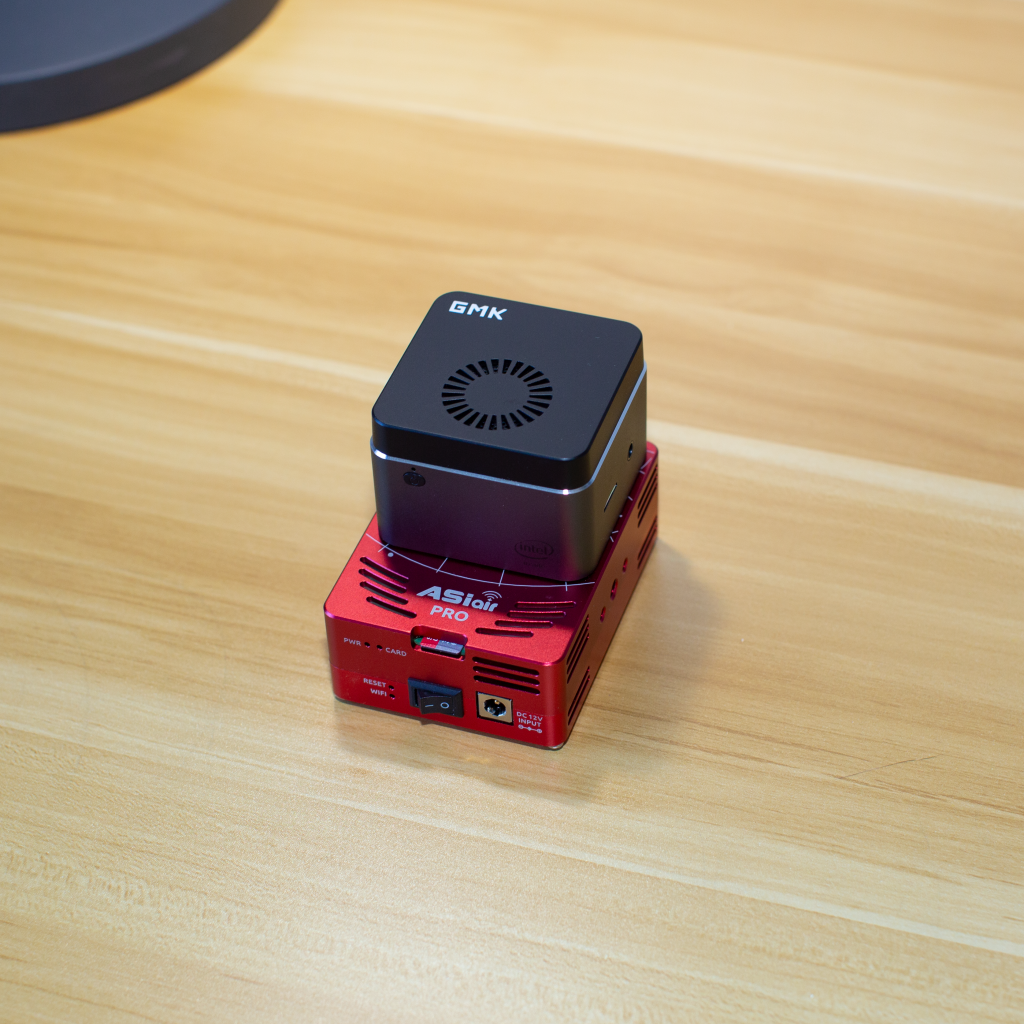 Conclusion: NucBox is smaller and lighter but is not explicitly designed for astrophotography. It is a general purpose computer.
Vibration
Since GMK NucBox comes with a CPU cooler fan it can cause vibration for the mount or the telescope. Strong vibration can make pictures blurry. I measured GMK NucBox vibration with an iPhone Vibration Analysis app that is based on the accelerometer.
First I measured my ambient vibration on the table to get the frame of reference and discard any noise that may come from my environment. Then, I loaded the NucBox CPU to 100% with a CPU-Z stress tool to force the CPU cooler fan to spin. I placed an iPhone on the NucBox and measured vibration for a minute.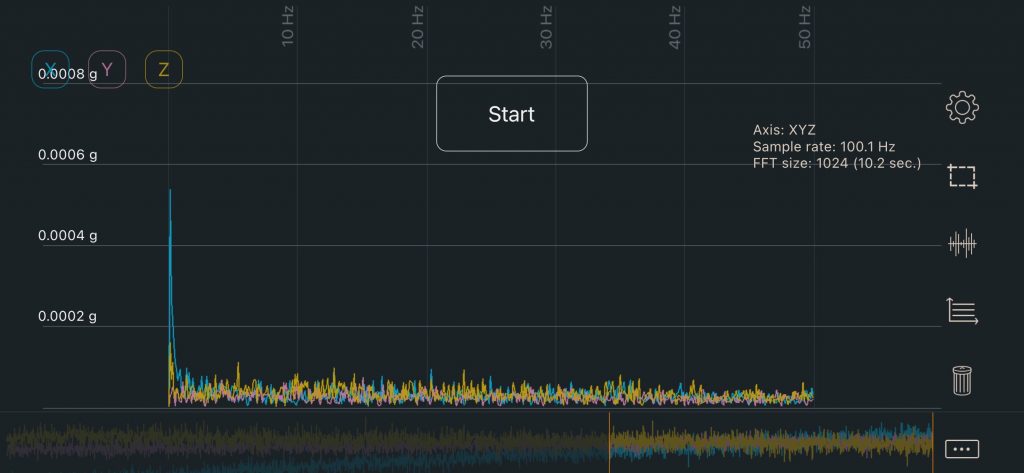 My ambient vibration on the table was 0.0004g on average. NucBox under load yielded about 0.0005g of vibration. As such, CPU fan generates about 0.0001g of displacement, which is lower than ambient vibration on the table.
Conclusion: Vibration is negligible and computer can safely be mounted on the telescope
Mounting
ASIAir Pro was designed for astrophotography and it comes with sufficient mounting options right out of the box. It has mounting holes for adapters on the bottom and on the side, making it possible to mount horizontally or vertically.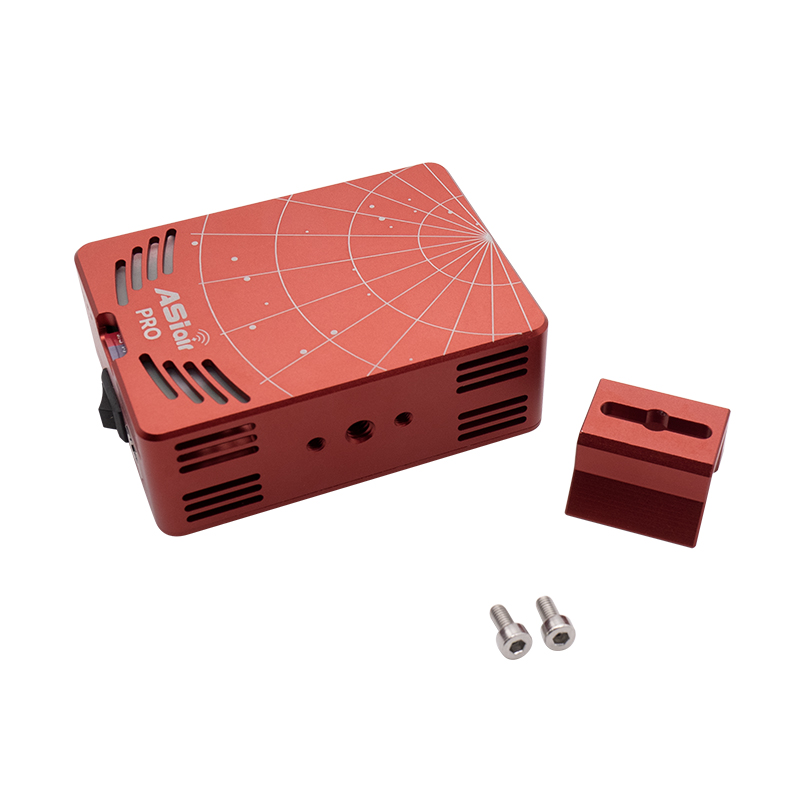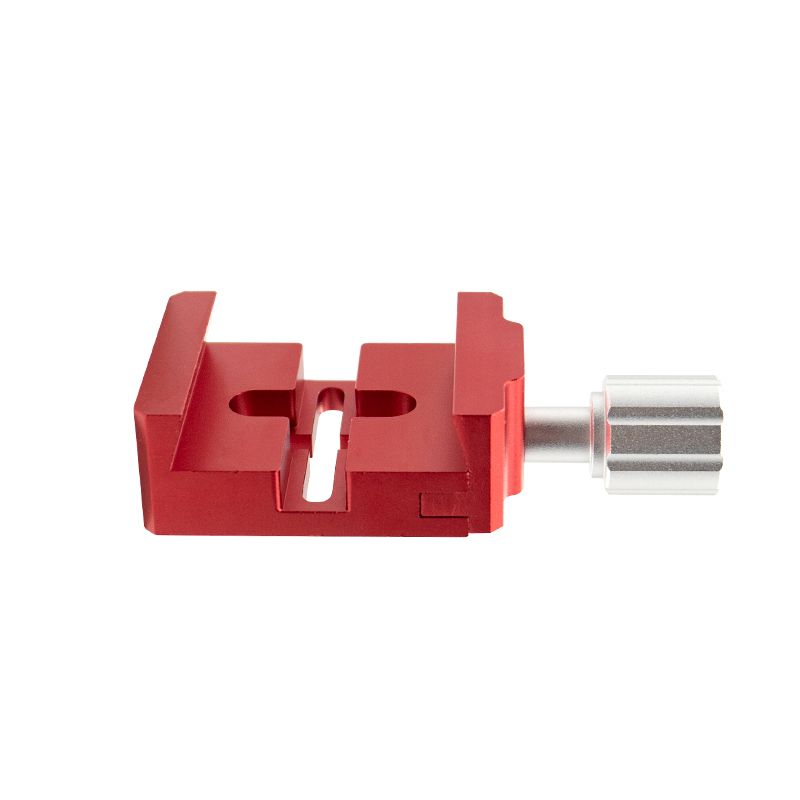 Unlike ASIAir Pro, GMK NucBox does not have a standard dovetail adapter. It does come with two holes on the bottom that can accept screws, but those are too small for standard mounting plates. The most straightforward way to attach GMK NucBox to the telescope is using Velcro. The device is light enough that Velcro would hold.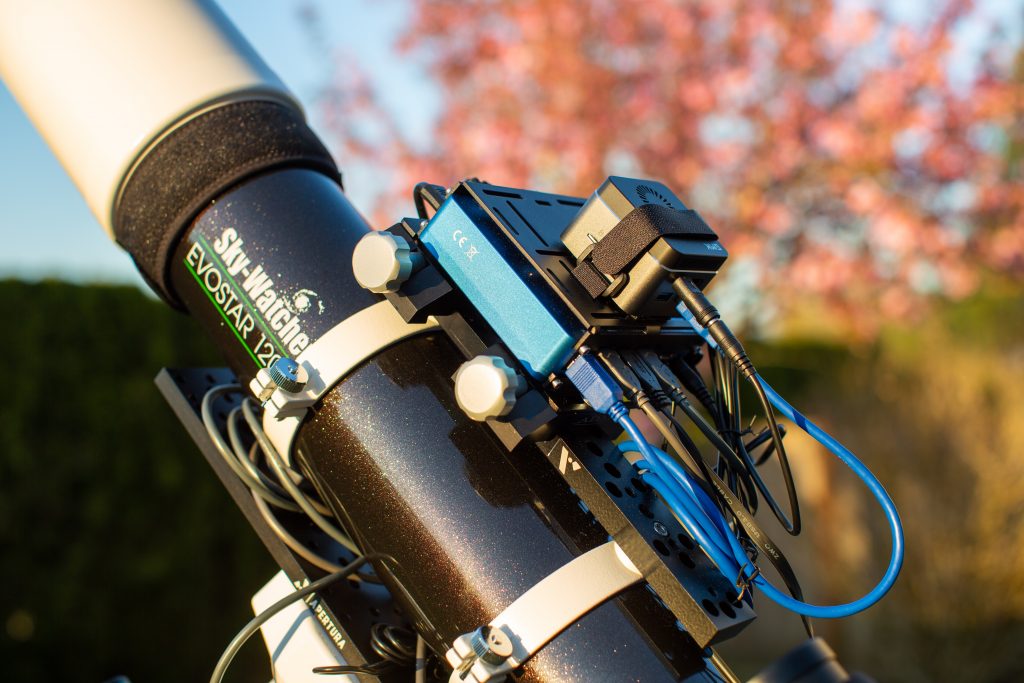 It is not uncommon to use Velcro with astrophotography equipment. For example, Pegasus Astro Dewmaster doesn't come with mounting holes at all and Velcro is the only way.
Conclusion: GMK NucBox can be mounted. Attachment method is less than ideal, but within reasonable range of solutions for astrophotography.
Power consumption
Power consumption is not really interesting for backyard astrophotography because we can access the power grid in our house and can run any computer. However, it becomes a very important topic when we travel to the dark sky location and carry a portable battery. We don't want to change our workflow and use a completely different device under the dark sky. We also don't want to sacrifice precious minutes of photography because our portable power supply ran out of juice.
GMK NucBox
ZWO ASIAir Pro
Input voltage and current
12 V, 2 A
12 V, 2 A
Consumption
9 Watt-hours minimum
13 Watt-hours on average
20 Watt-hours peak
6 Watt-hours on average
Input socket
USB-C, power only
5.5mm x 2.1mm female
We don't run the computer alone in the dark. We have other pieces of equipment draining our battery. Here are a few of them for reference:
Power inverter in 12V socket of Jackery Explorer 300 = 3 Wh
ZWO ASI533MC Pro dedicated astronomy camera with cooling at max power = 24 Wh
PegasusAstro Dewmaster with 2 dew heaters at 60% capacity powering EQ6R-Pro mount = 33 Wh
If we do the math and add up the numbers for the entire imaging rig then we are looking at 77 Wh of consumption with GMK NucBox and 66 Wh with ZWO ASIAir Pro. Jackery Explorer 300 battery can run GMK NucBox setup for 3:45 hours compared to 4:23 hours with ASIAir Pro. That's 38 extra minutes of imaging with ASIAir Pro.
To keep your imaging rig cables organized I'd recommend leaving the original power brick for GMK NucBox at home and wiring it up through the power box unit using a 5.5mm x 2.1mm female to USB-C adapter. Both NucBox and ASIAir Pro have the same voltage and current on input and I have successfully verified that ASIAir power supply will work for NucBox as well.
Conclusion: GMK NucBox will drain battery faster and if power supply is the single highest priority for you – GMK NucBox is not the right choice.
Price
This category vary wildly depending on your preferences. Astrophotography is generally a bottomless pit so healthy level of moderation is advised. We will list all additional accessories and devices that may make sense to purchase, but none of them are required. Each device will work just fine out of the box.
GMK NucBox
ZWO ASIAir Pro
Computer price
$239 regular price for 128GB storage
$179 promotional price for 128GB storage
$279 for 64GB storage included
Additional USB Hub
$12.99 for USB Port Splitter
Not necessary because it has 4 x USB ports
Dew heater control
$88 for PegasusAstro DewZap
$208 for PegasusAstro DewMaster
$620 for PegasusAstro Ultimate Powerbox v2
Included 4 dew heater ports
Remote control software
$100 for Windows Pro upgrade to enable native Remote Desktop
$0 for TeamViewer
Included with the purchase as a free iOS/Android app
Imaging software
Most astrophotography software is free and powerful
€18 for Astrophotography Tool, if you want to pay
£10.00 for SharpCap Pro, if you really need it
Included
WiFi Range extender
$40 for TP-Link AC750 portable Nano Travel Router
$45 for Vonets
Conclusion: If price is the single most important aspect, GM NucBox is not the right choice. You will run into additional expenses very quickly, compared to ASIAir Pro that has a bit more headroom to expand your capabilities before you need to splurge.
Performace
The performance of these two units is not strictly comparable because they are running different operating systems (different capabilities) and support different instruction sets. We will look at the listed specification for each machine and then pop the hood on GM NucBox to look deeper.
| | GMK NucBox | ZWO ASIAir Pro |
| --- | --- | --- |
| Processor | x64 Intel Celeron J4125, 2.0 GHz quad-core (burst to 2.7 GHz) | ARM Cortex A-72, 1.5 GHz quad-core |
| RAM | 8 GB LPDDR4 | 4GB DDR4 |
| Storage | 128GB SSD | 64GB USB SanDisk |
Basic specs
It is worth looking in depth at CPU characteristics through the lens of CPU-Z tool.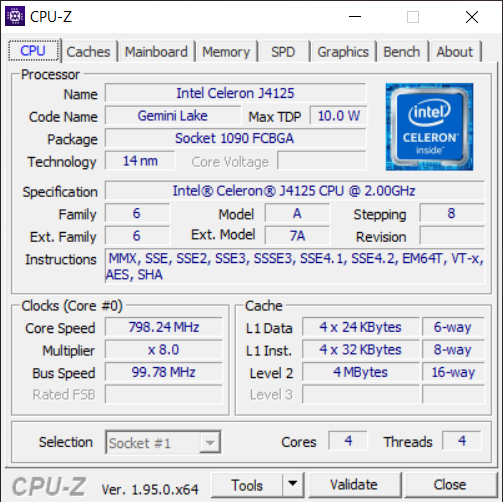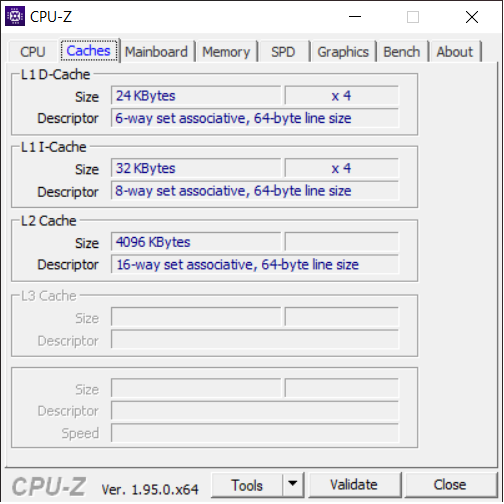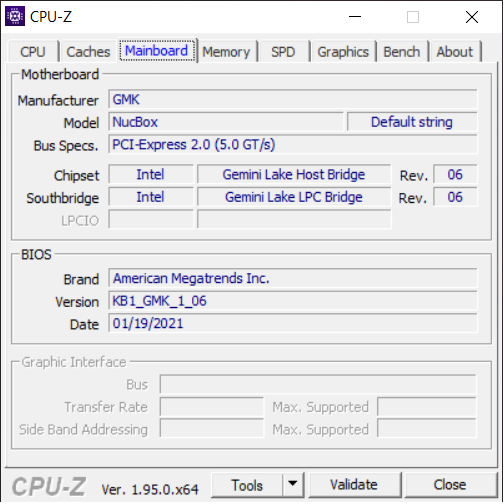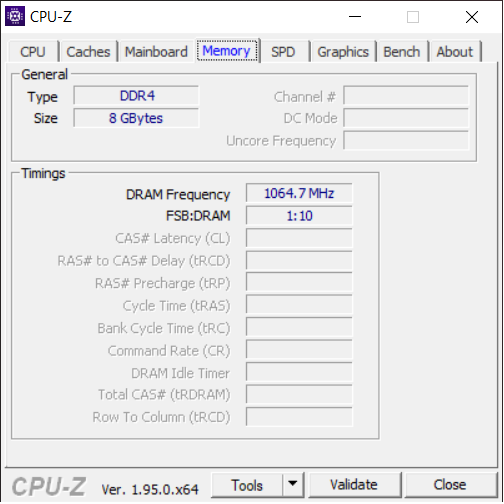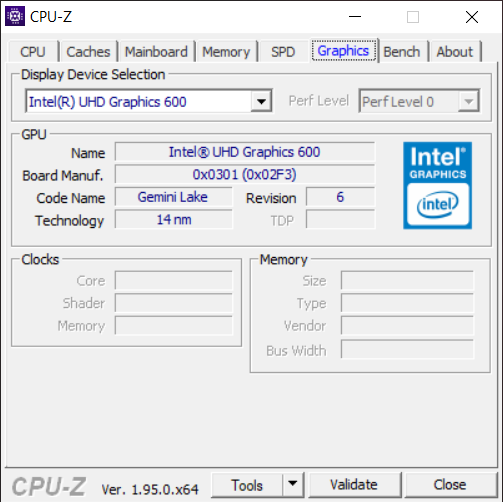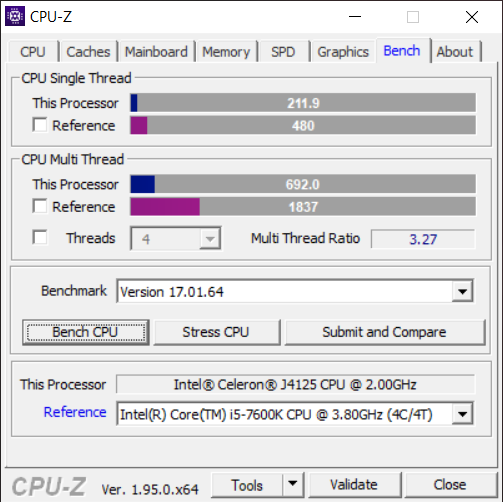 The snapshot of Windows device manager gives an insight into onboard hardware on GMK NucBox.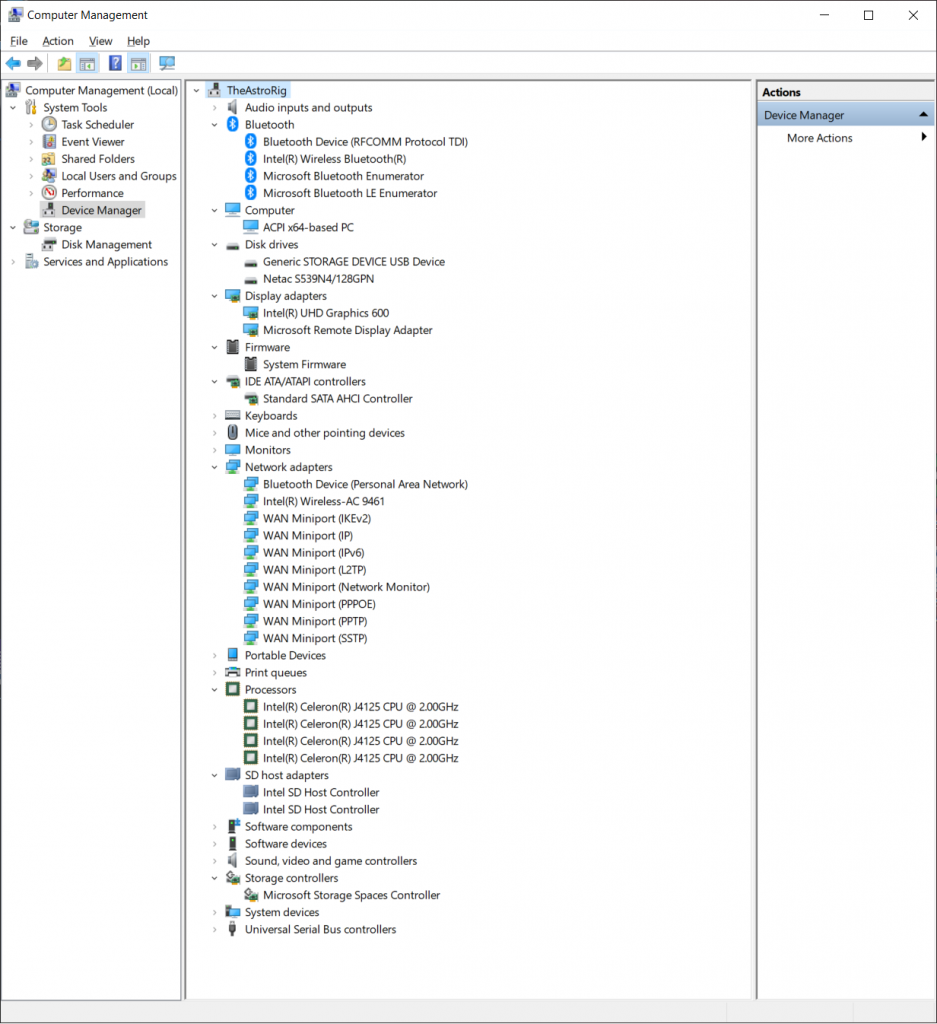 While guiding in the middle of the imaging session, GMK NucBox CPU is barely loaded and there is 4GB of available RAM. Spikes of activity on the picture below are bursts of activity in PHD2 to analyze images from the guide camera. This level of activity keeps the CPU fan mostly off, which saves power.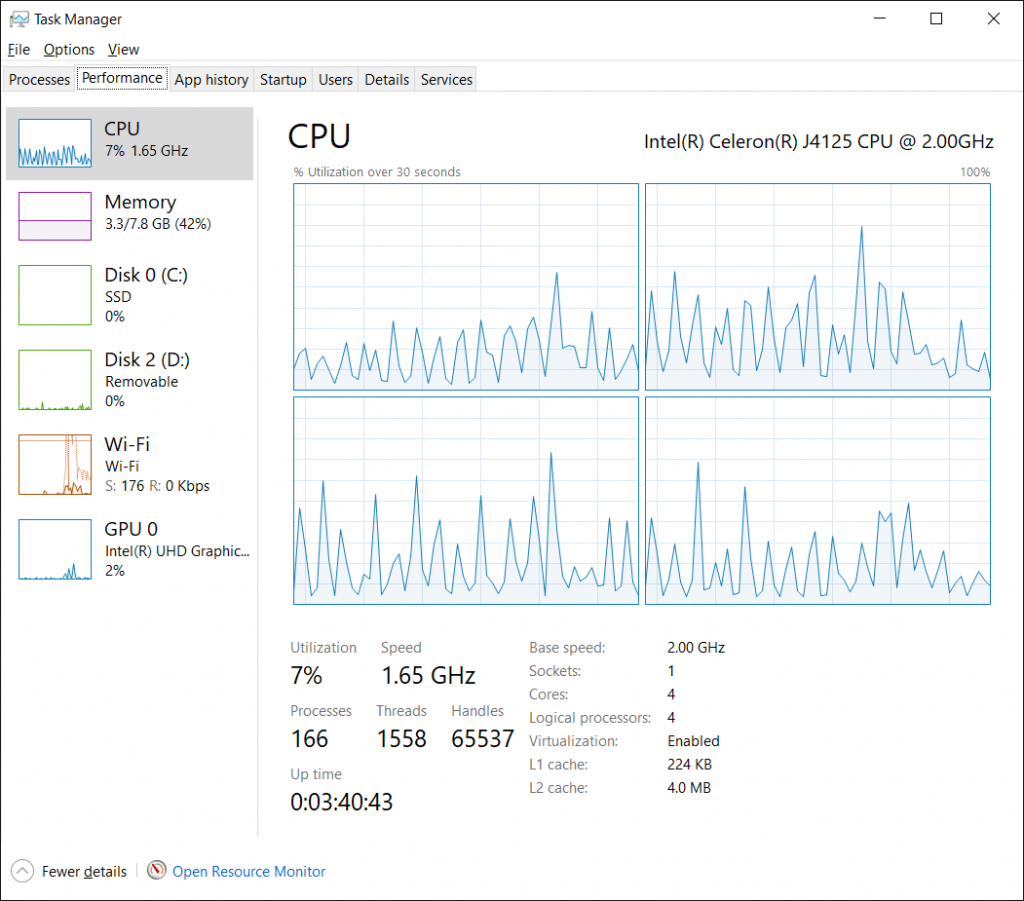 My typical imaging session has the following software running:
Astrophotography Tool that controls the camera and mount position
PHD2 for auto-guiding
DeepSkyStacker Live to classify image quality automatically and discard blurry or out of focus images
This software keeps GMK NucBox loaded to about 25% CPU on average and RAM filled to 45%.
Conclusion: GMK NucBox has enough headroom to accommodate additional astrophotography software if necessary. It is powerful enough to do necessary tasks without delay.
BIOS
This little machine comes with a flexible BIOS configuration, all open for tweaking. I was pretty impressed with the amount of knobs GMK made available.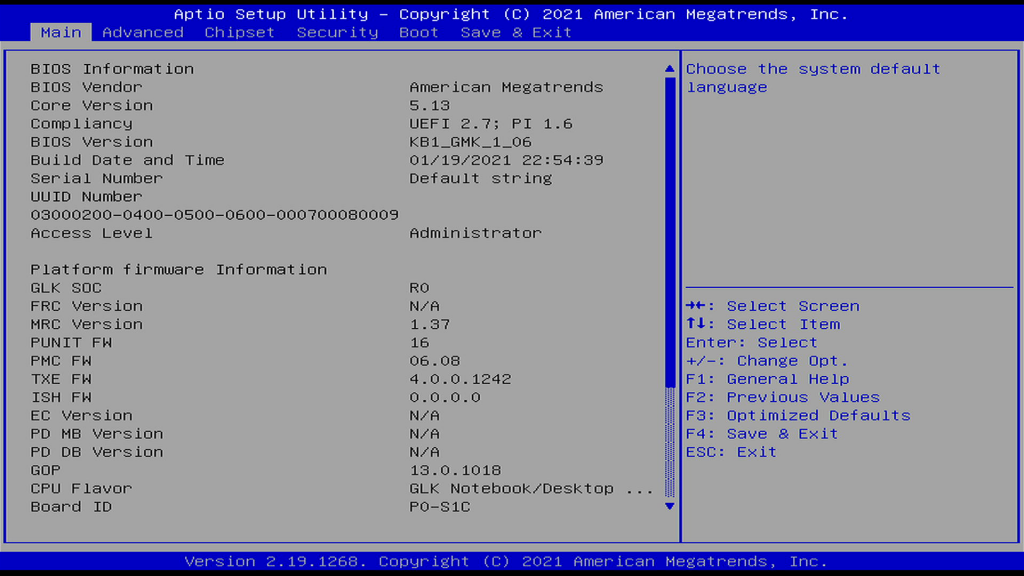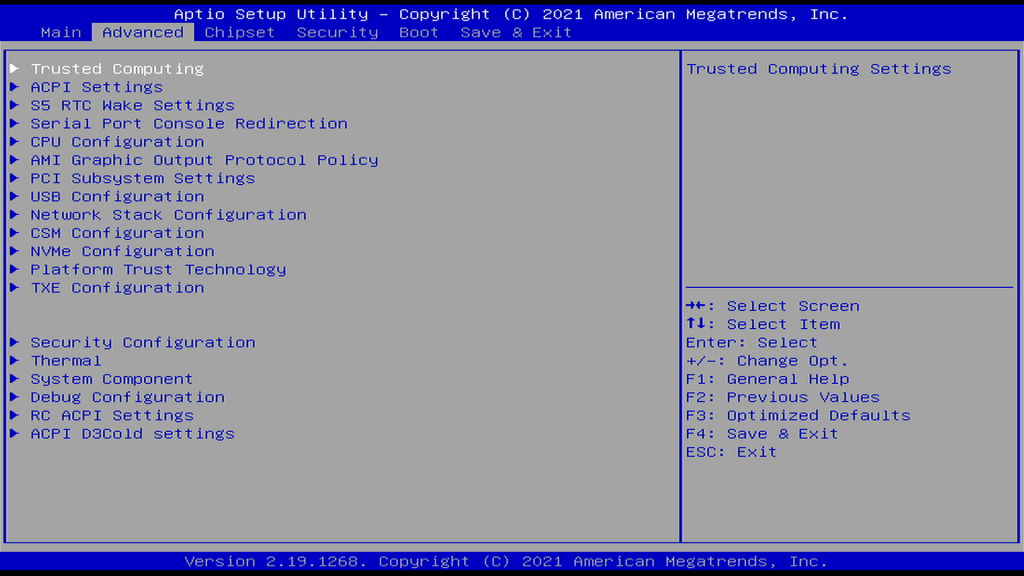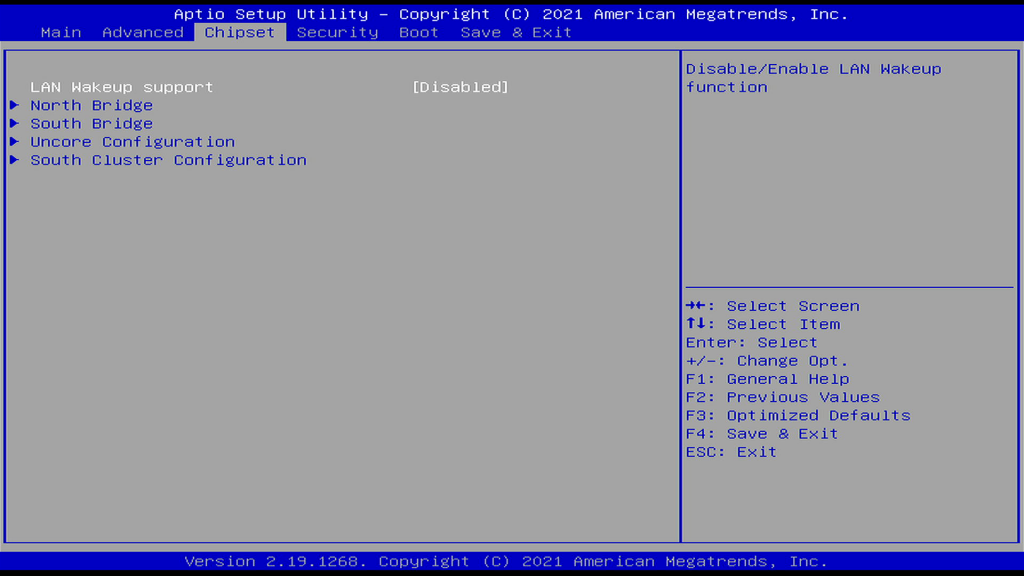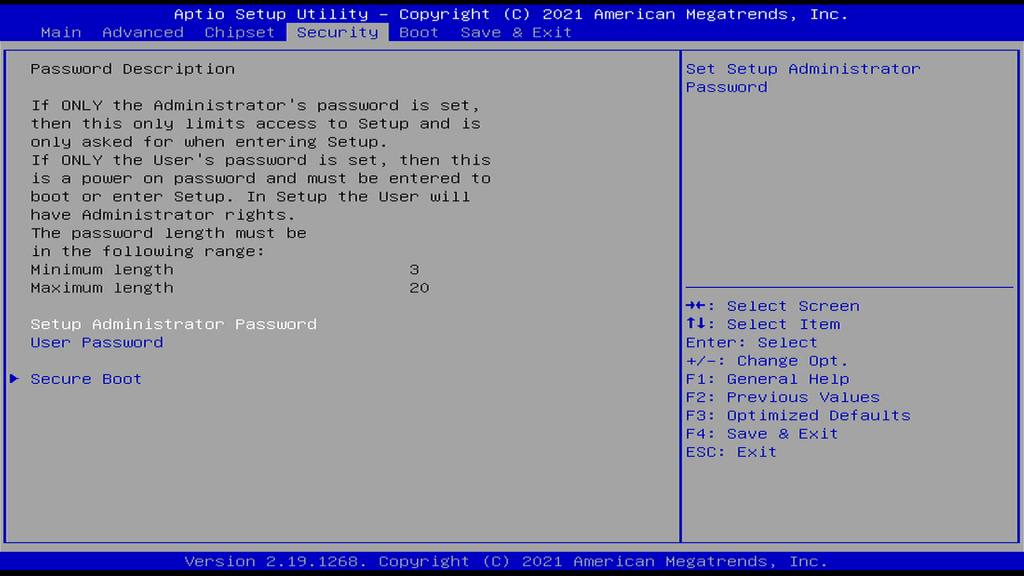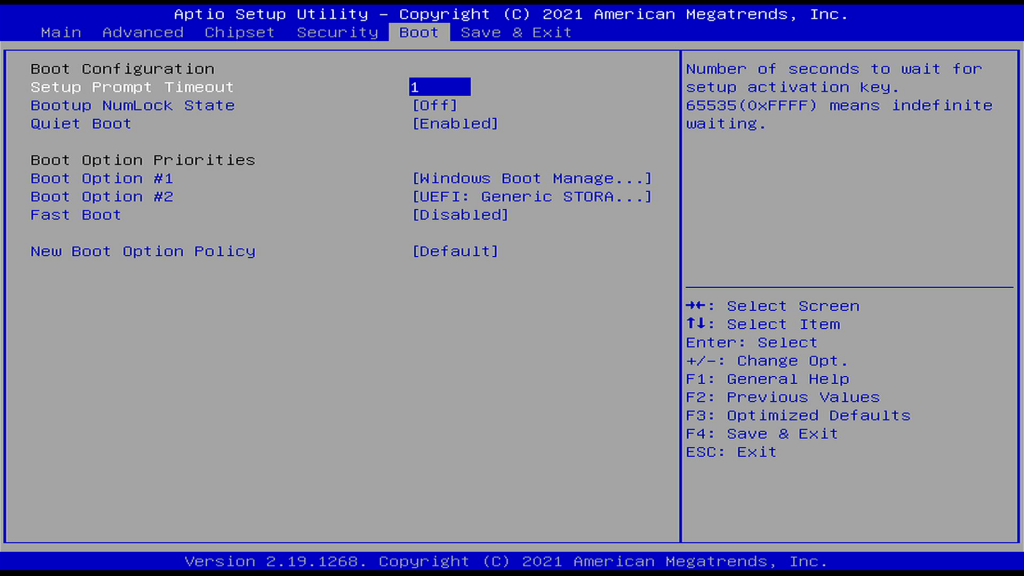 Advanced BIOS Pages
Here's the list of configuration options available under "Advanced" tab in the BIOS.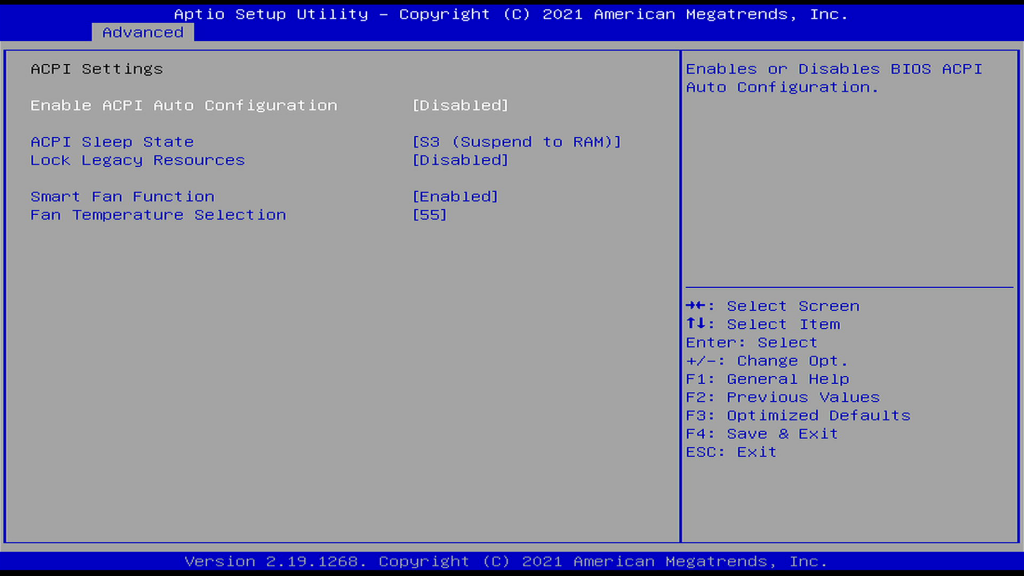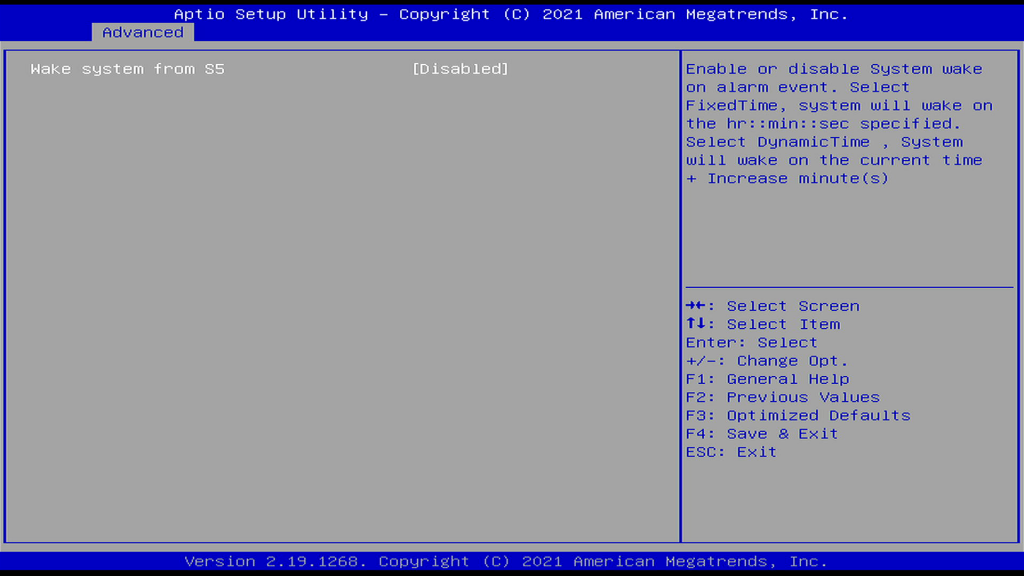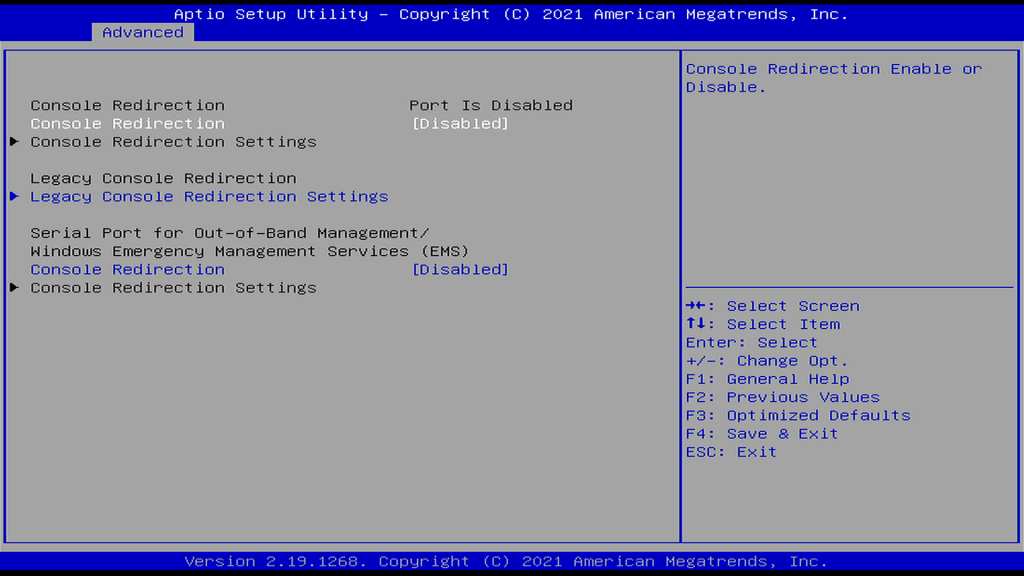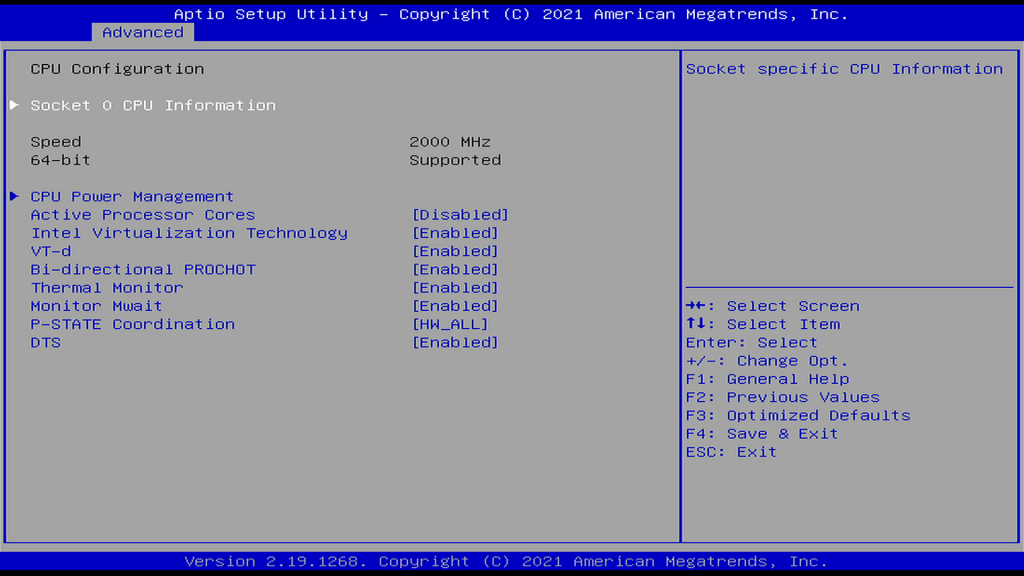 It is worth noting that CPU supports virtualization. It means that it is possible to run Bluestacks on Windows to emulate Android and host ASIAir control application.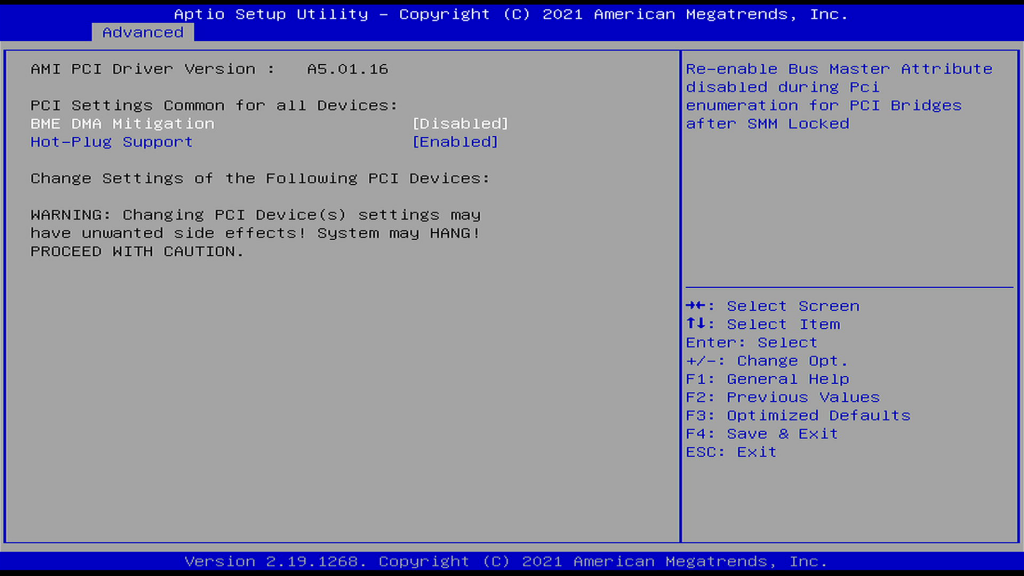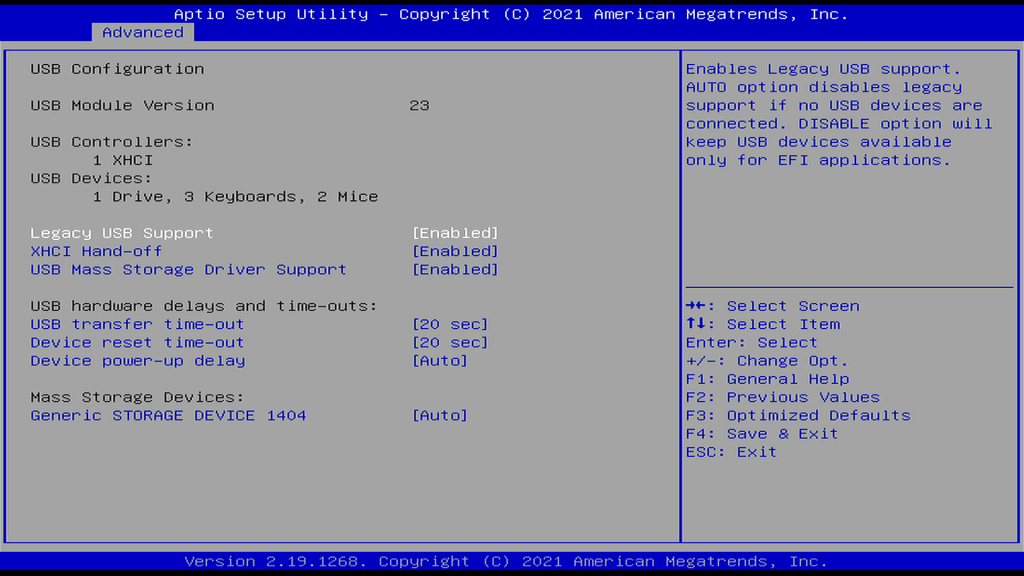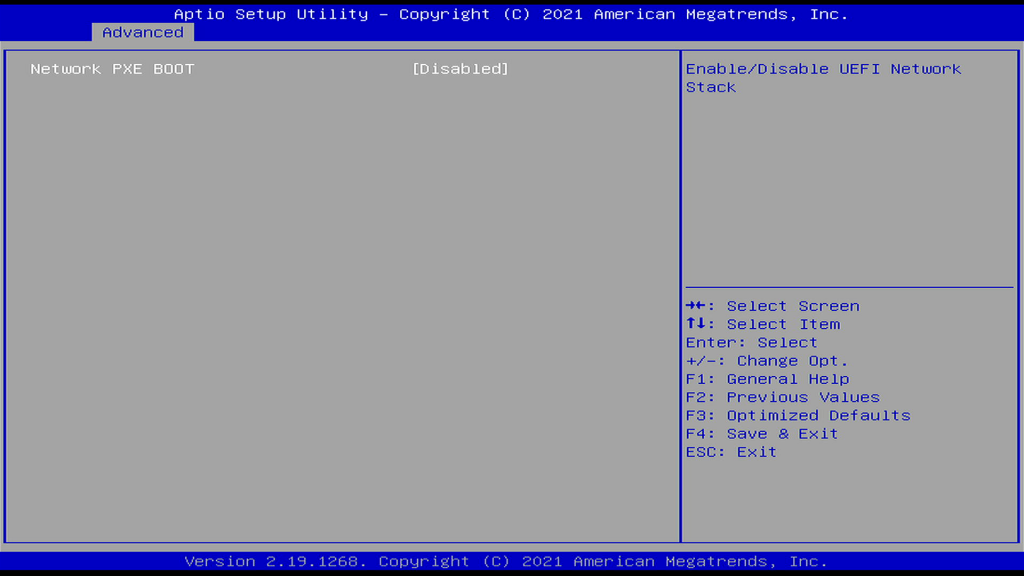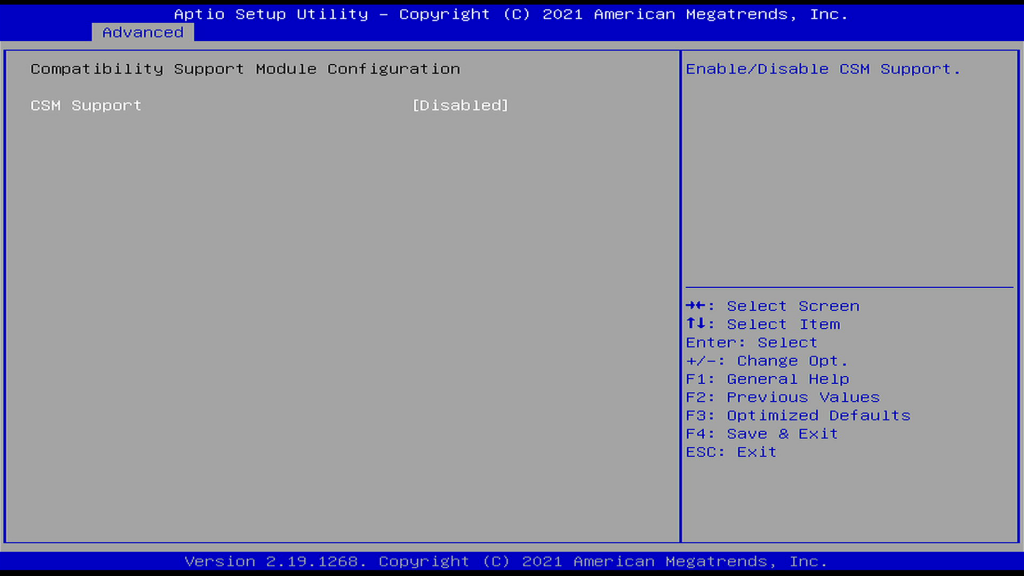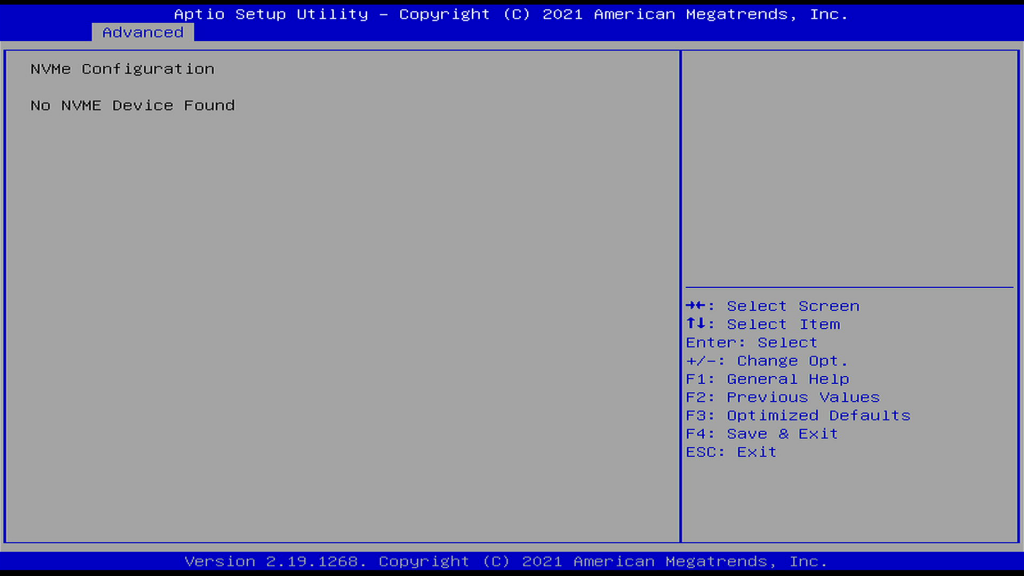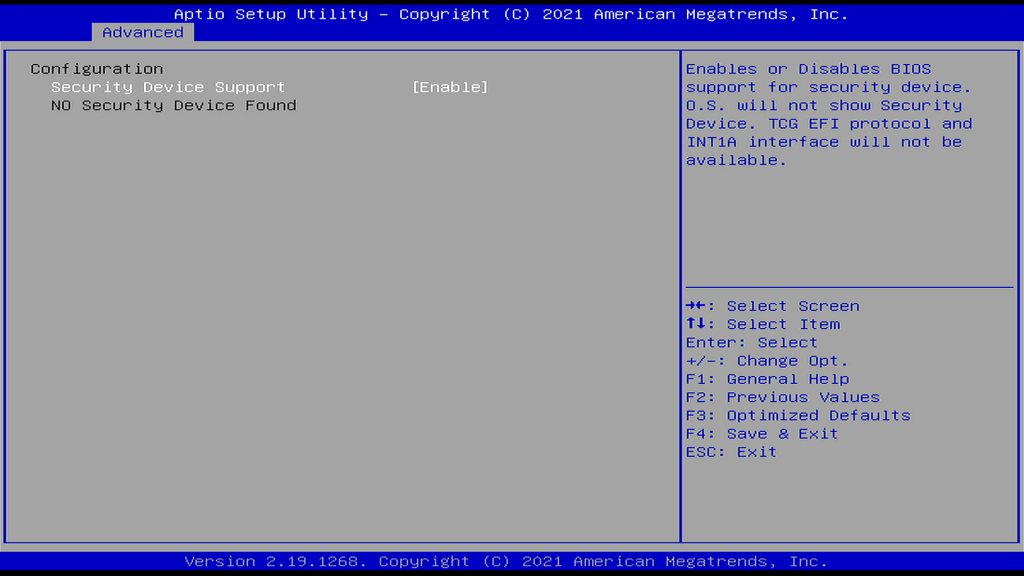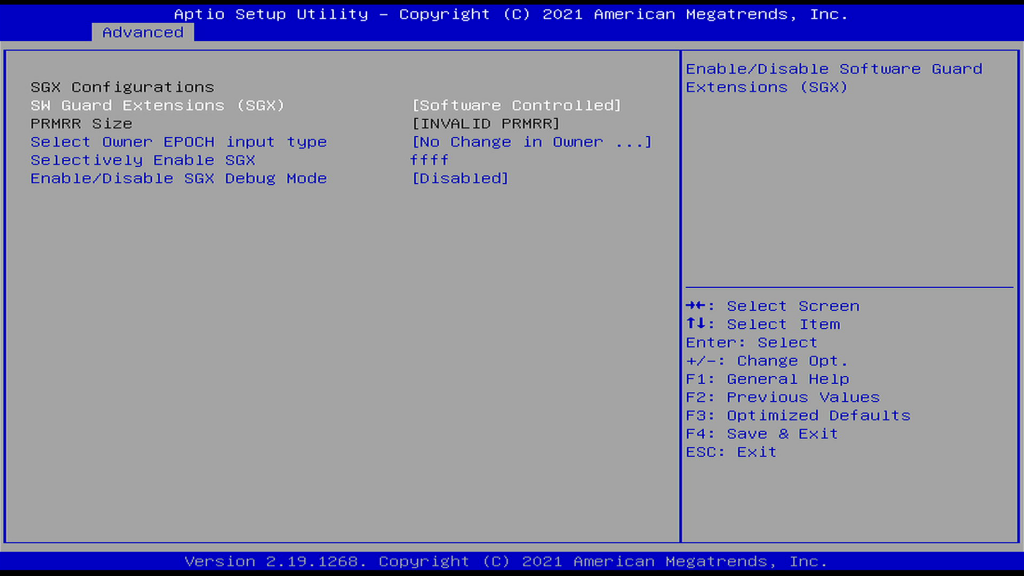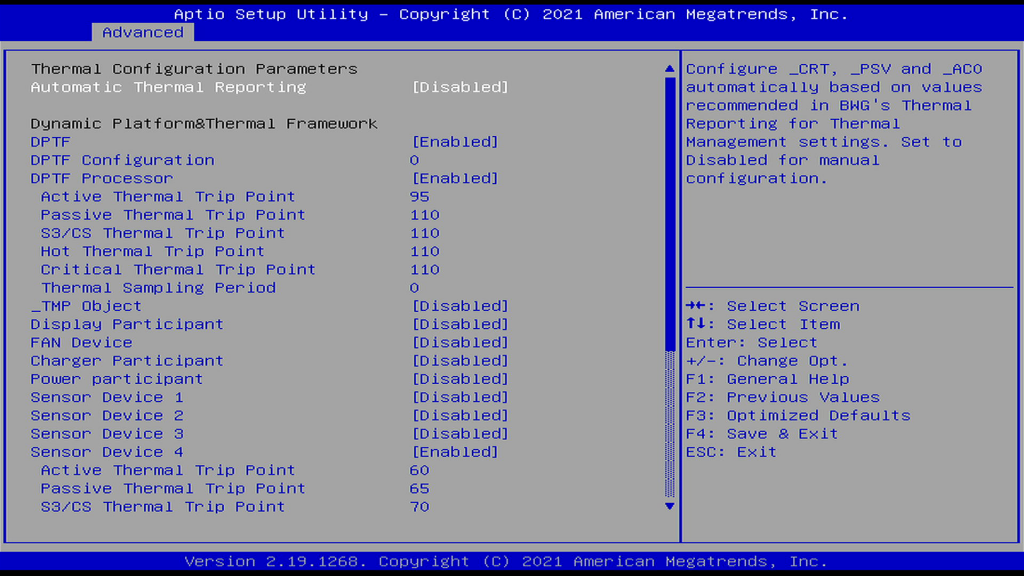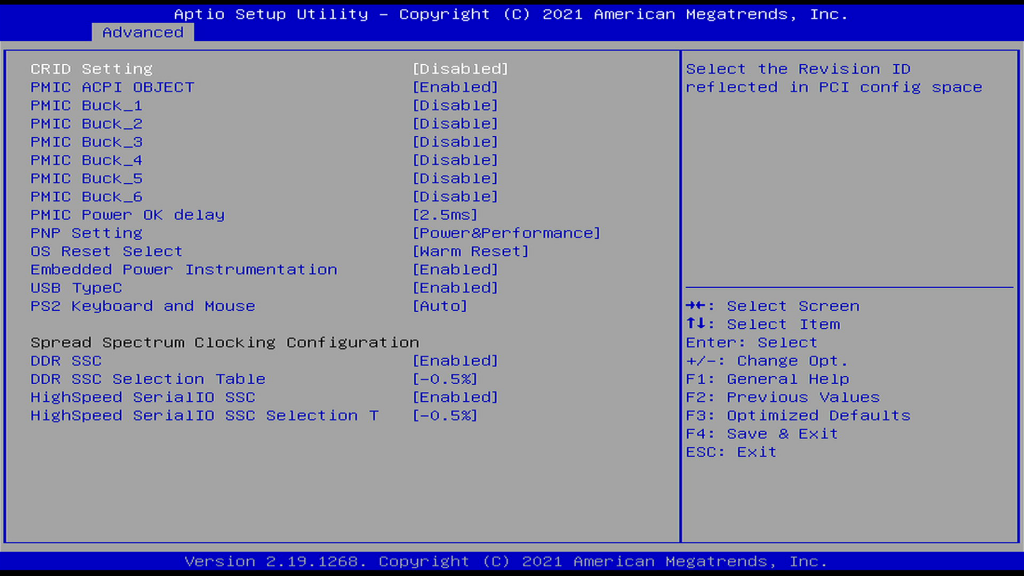 Chipset BIOS pages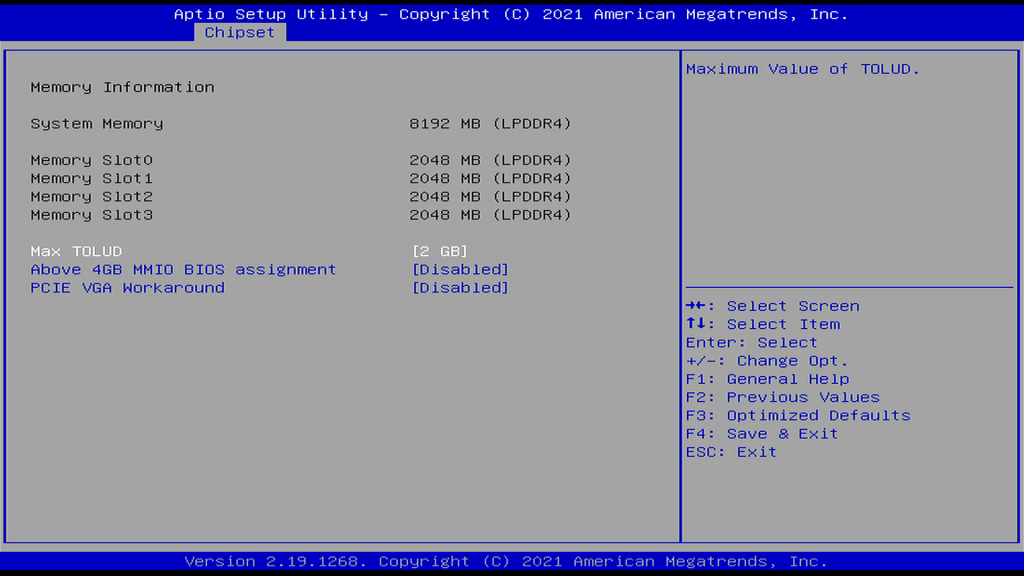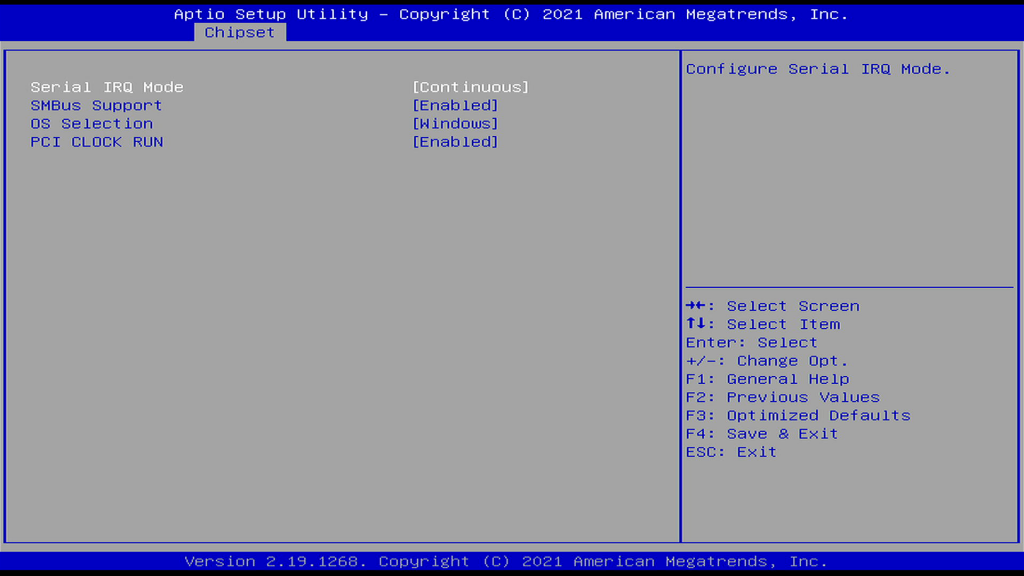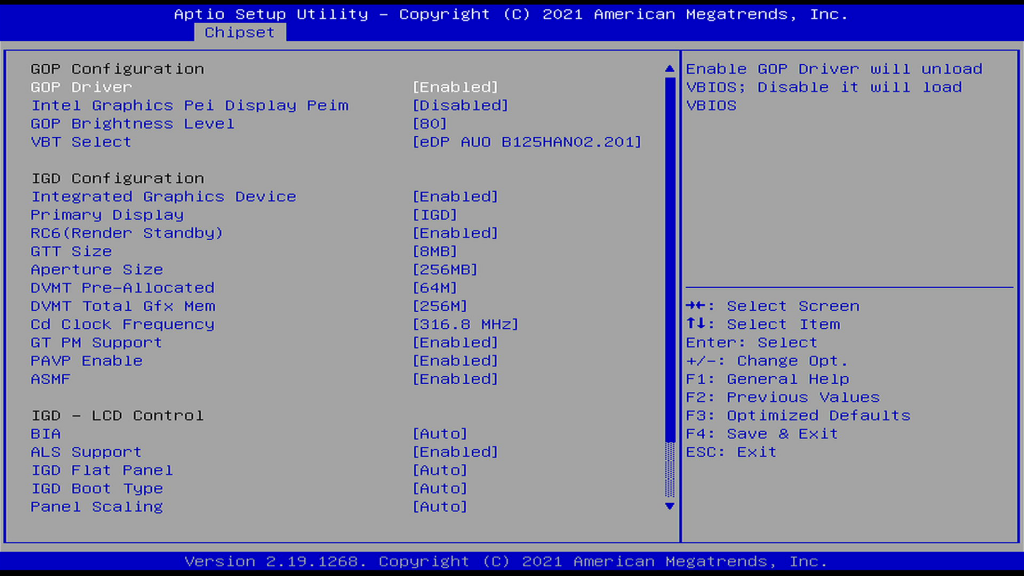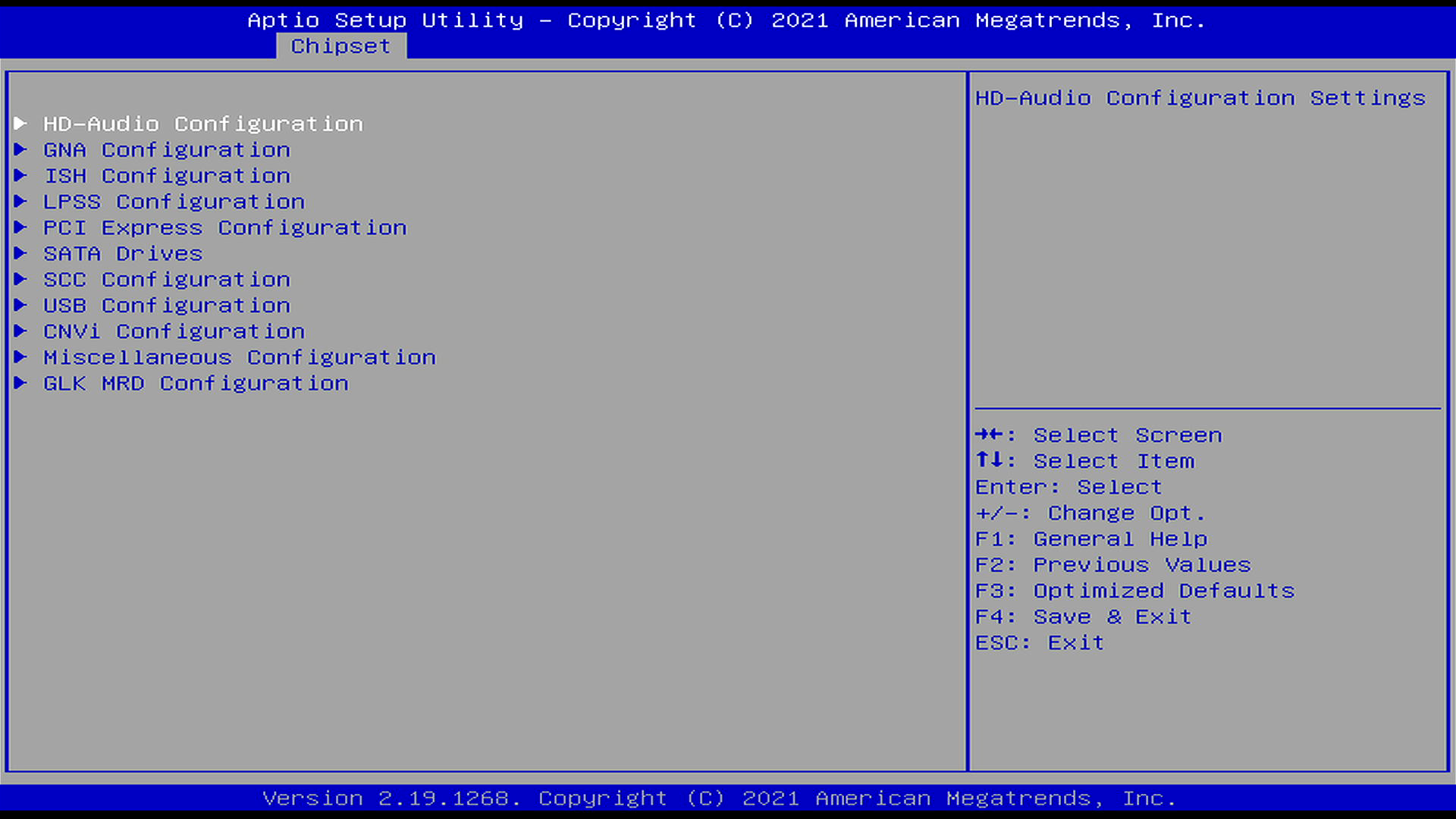 Experience
GMK NucBox is a full-fledged computer in a tiny box so you can expect a complete PC experience. Just like any other PC, you can customize it with software and configuration ZWO ASIAir Pro can't even begin to dream about. With flexibility comes complexity, which isn't suited for every consumer. In this section, we will explore the extremes of customization and you'll decide for yourself.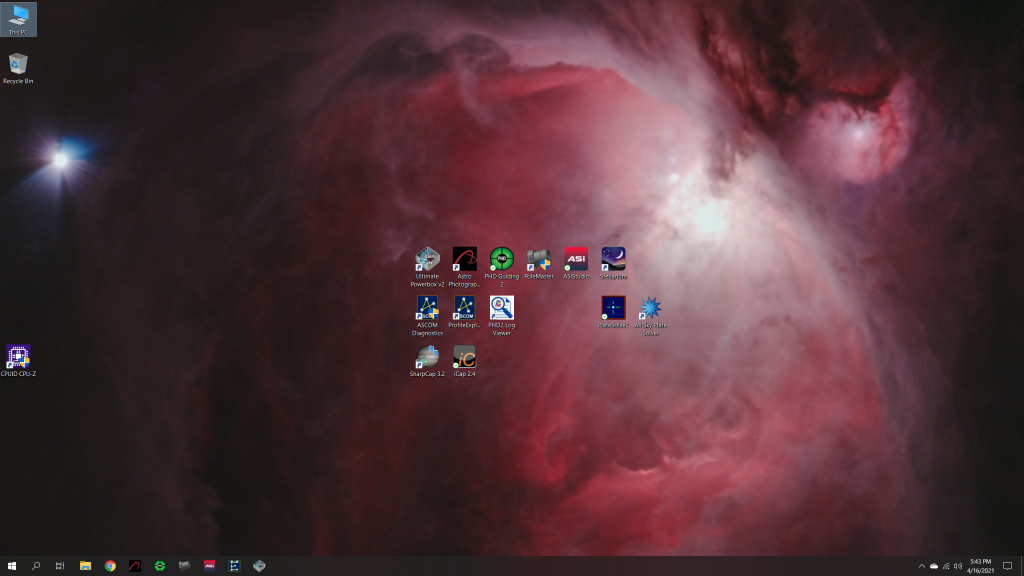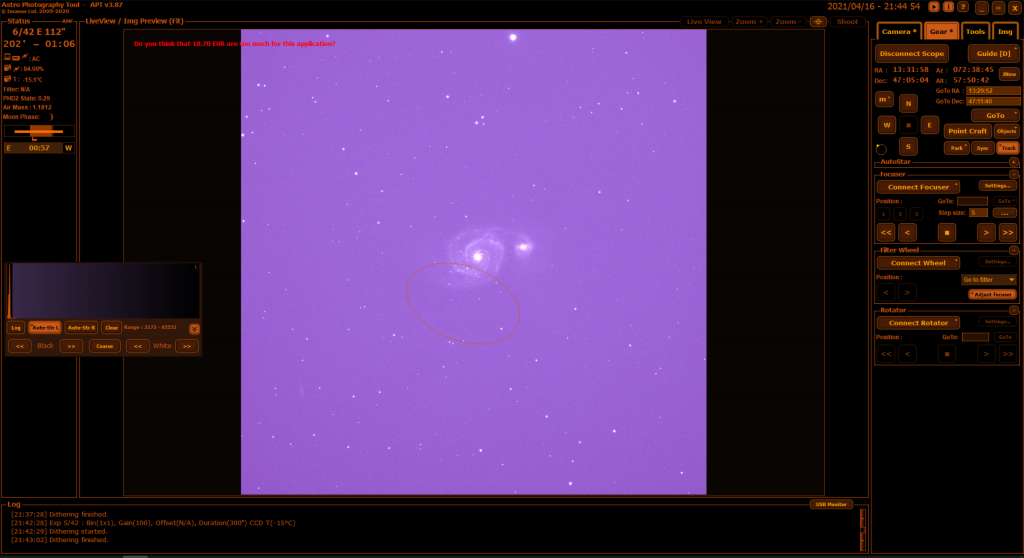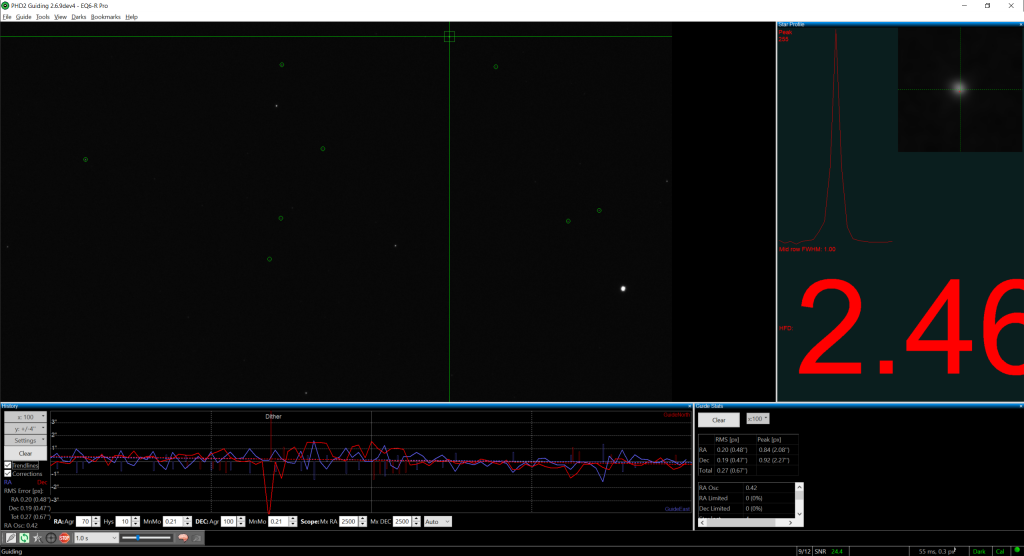 PoleMaster
The first clear advantage of a PC is the ability to use QHYCCD PoleMaster software and camera. It gives you a real-time feed of your polar alignment and guides you step by step to achieve near-perfect alignment. Combined with the ability to control mount via EQMod you can do the entire process remotely from the comfort of your home or car, except the very last step that actually requires adjustment of Alt/Az knobs on the mount. The video feed is real-time so no need to wait for the next picture to be taken with the Astro camera and hope you did not overshoot.
Automatic image classification
DeepSkyStacker Live software has a handy capability to watch a folder where images get dropped and automatically register them. This software can calculate FWHM for all stars in the image, which is indicative of the focus and tracking precision. It can automatically discard (or move) images with too high FWHM into a different folder, leaving you with a clean collection of subs of near perfect focus and tracking accuracy.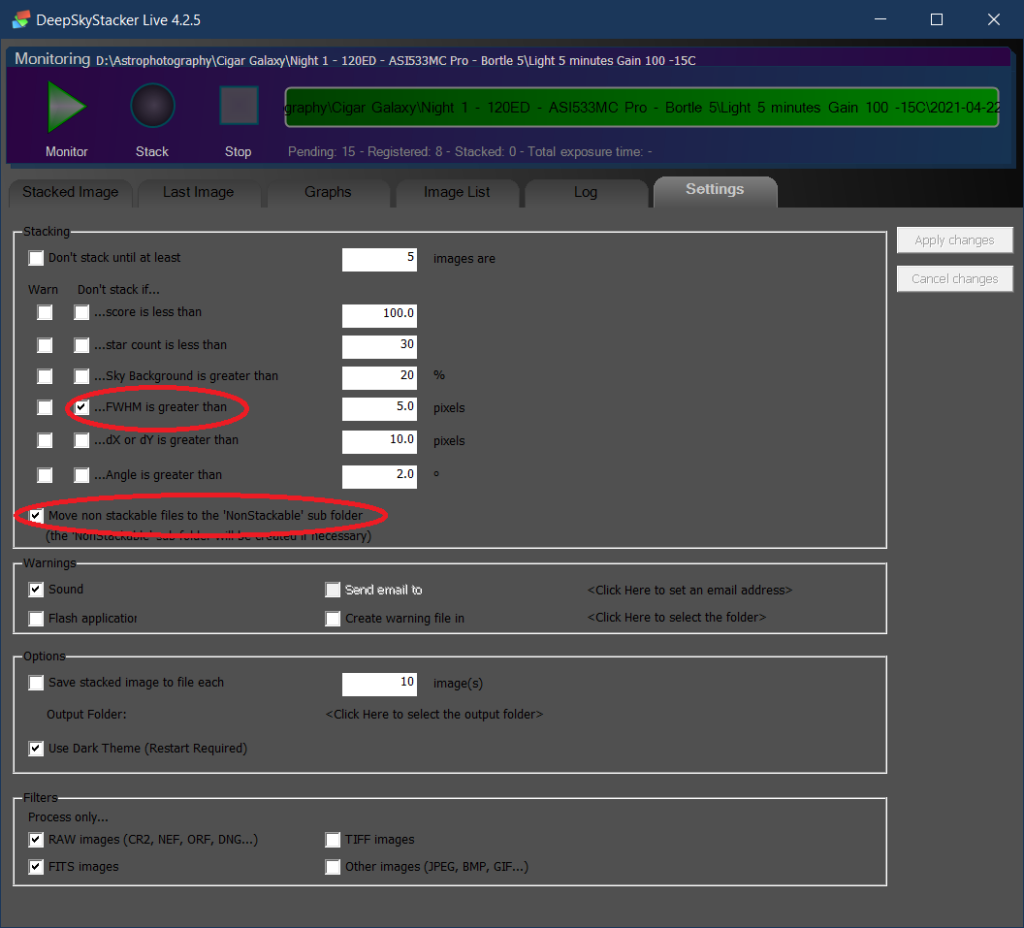 OneDrive sync
This is one of my favorite convenience features. GMK NucBox runs a full Windows operating system that comes with OneDrive pre-installed. You can point OneDrive to your astrophotography tool output folder and it will automatically synchronize all files into the cloud. You can simultaneously enable the synchronization of photos from the cloud to your desktop PC where you process the images. Voila, images automatically travel over the air to your computer for processing without you spending any effort to copy them. It just happens!
Use any DSL with a USB interface
Don't want to splurge on a dedicated astrophotography camera? No problem. As long as your DSLR supports a USB interface, it will work with GMK NucBox and one of the astrophotography tools. You are not boxed into the ZWO ecosystem. If you love your Canon Ra and want to use it – go for it. You do not depend on ZWO adding support for your camera – you are in control of your destiny.
Security
If you are a security-conscious individual as I am then you will want to protect your device and your data with the latest industry standards. Windows OS that runs on GMK NucBox allows you to do that with ease. To begin with, you can encrypt your computer with BitLocker. Even if you lose your astrophotography computer, someone else will be unable to access your files, including your passwords. You get virus scanning with Windows Defender. Windows Firewall protects your computer from unwanted traffic over the network if someone hacks into your wireless access point. The list goes on. Contrast it to ZWO ASIAir Pro that comes with the default password – everyone knows it. If you are imaging among a group of people you have no choice but to pray that they leave your device alone.
On 7/7/2021 GMK released a firmware upgrade that enables the TPM 2.0 device. You can read about it in my post here.
Conclusion
GMK NucBox is a preferred choice for astrophotographers who seek flexibility and control, who want to stay on the bleeding edge of development and use a variety of tools from different brands. People who want to build a powerful imaging rig will be wise to invest into GMK NucBox as the brain of their entire operation.
On the other hand, ZWO ASIAir Pro is a great choice for people who prefer simplicity and convenience. They are OK staying on the beaten path in terms of equipment and functionality. They do not need the latest and greatest software. As long as it works – they are happy.
Both use cases listed above are valid and it is up to you to decide what matters most. I happen to be in both of those categories – each category for a different imaging rig.